'Arthritis treatment' advert shows fabricated product endorsements from Filipino doctors
Multiple Facebook videos with hundreds of thousands of views claim to show Filipino doctors endorsing a food supplement that supposedly treats "all types of arthritis".  But these videos had been digitally altered to make it appear local doctors are endorsing "Arthriheal" -- an unregistered product that the country's drugs regulator has warned not to purchase and consume. A doctor misleadingly featured in one of the videos called the posts a "scam".
One video gained over 200,000 views after it was shared on August 20.
It shows a man identified as "Dr. JM Co" introducing a patient that he says has been suffering from gouty arthritis.
It then cuts to a video of a product called "Arthriheal".
A voiceover can be heard saying, "Arthriheal is an effective solution to all types of arthritis".
Arthritis is a condition that causes pain and inflammation in the joints.
According to the Johns Hopkins School of Medicine, there is no cure for arthritis and treatment depends on the patient's symptoms, age and general health.
These range from massage and pain medications to surgery.
Towards the end of the video, the narrator claims that the patient thanked the doctor for recommending the product.
The product's logo can be seen in the upper right corner of the video.
Screenshot of the false post taken on August 30, 2022
Other Facebook videos here and here show a woman identified as "Dr. Geraldine Zamora" also appearing to endorse "Arthriheal".
Screenshot of the false post taken on August 30, 2022
Similar videos were also shared on Facebook here and here.
Comments on the posts suggest users believed the claim and expressed their interest to purchase the product.
"This is great, how much is it?" one wrote.
"Thank you for this. I would like to order," another commented.
The posts are false.
Product warning
The Philippine Food and Drug Administration warned against buying and consuming "Arthriheal" in an advisory on June 1. 
"The agency cannot assure its quality and safety," it said of the unregistered product.
Keyword searches found the supplement is not listed in FDA's registered food products database as of August 30.
Digitally altered videos
The doctors featured in the videos --  Juan Maria Co and Geraldine Zamora -- separately told AFP they have not endorsed "Arthriheal".
"I do not promote Arthriheal and do not recommend food supplements for the treatment of arthritis," Co said on August 31.
His clip was taken from a segment of the television program "Doctors on TV", posted on YouTube on July 1, 2017 by Philippine broadcaster UNTV.
A review of the original clip found Co did not mention Arthriheal.
Zamora, a rheumatologist, told AFP on August 26: "NO, I DO NOT and will NEVER recommend a BRAND of supplement or medicine on social media."
Keyword searches found her clips were taken from longer videos posted on her TikTok account here and here, which did not mention Arthriheal.
In a TikTok post post here, she also said: "I hope no one gets scammed by this. Let's be vigilant, there are many scammers."
Below are screenshot comparisons of the altered videos (left) and the original clips of Co and Zamora (right):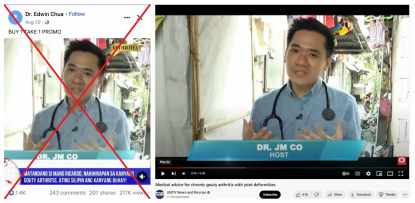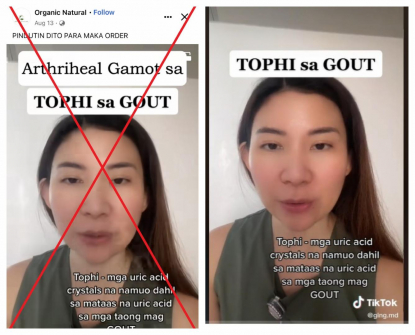 AFP previously debunked false posts touting unregistered products in the Philippines here, here and here.