False claims of Sharpies invalidating votes resurface for US midterms
The claim that ballots marked with Sharpies will be invalidated has been debunked repeatedly since the 2020 US election, but videos targeting midterm voters claim machines in Pennsylvania will not be able to process marks from the felt-tip pens. This is false; election officials and a cybersecurity expert said the votes will be accurately recorded -- and if they result in adjudication, that process is not associated with fraud.
"I just got off the phone with an election representative in Pennsylvania: Dominion, Dominion, Dominion ... President Trump has spoken about the machines, there's still a problem," says conservative commentator Ann Vandersteel during a Facebook Live video posted November 5, 2022.
The clip from "Women Fighting for America" was viewed more than 89,000 times. In it, Vandersteel claims Dominion Voting Systems -- a company whose voting machines are used in about a fifth of Pennsylvania counties -- "asked everybody to use Sharpies."
She continues: "We all heard about 'Sharpie Gate' in Arizona ... bleeding outside the ovals and creating these ballot problems when the machines couldn't read them," repeating a claim AFP debunked during the 2020 election.
"You are getting adjudication piles from the Sharpies bleeding out ... It's creating a much bigger problem than the mail-in-ballots," Vandersteel says, referring to the myth that absentee ballots lead to fraud.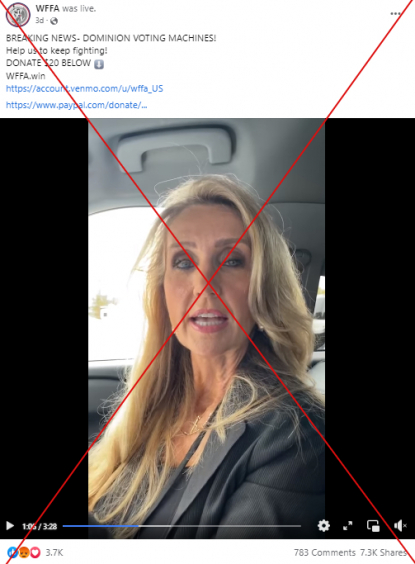 Screenshot of a Facebook video taken November 8, 2022
On Election Day, Vandersteel appeared in another video on Twitter in which she insisted that a "mass pile of ballots" are adjudicated manually by judges and "redirected to the candidate of their choice, so clearly there is massive fraud going on." Similar claims about the use of Sharpies circulated in the US states of Illinois and Arizona.
But election officials and a cybersecurity expert say voting machines can read marks made with Sharpie pens.
Dominion Voting Systems -- which was the subject of multiple conspiracy theories in 2020 -- says on its website that its machines can read "hand-marked paper ballots marked with writing instruments approved by election authorities, including Sharpie pens." All Dominion systems are capable of producing paper ballots or records, according to the company.
Amy Gulli, communications director for the Pennsylvania Department of State, told AFP the battleground state had not received any reports of issues with ballots filled out with Sharpies.
"Those claims are disinformation," Gulli said. "We are aware of these allegations made in previous elections, and those previous accusations were determined to be unfounded in Pennsylvania."
She added: "When a voting system is certified at the federal and state levels, marking devices (pens and/or pencils) are identified and tested to ensure that the system can read them and that they do not cause bleed-through or other marking issues. Counties use that information to identify the best marking device for their voters."
The federal Cybersecurity and Infrastructure Security Agency (CISA) pointed AFP to its website, which refutes the claim circulating online.
"Although felt-tip pens, like Sharpies, may bleed through ballots, some election officials have stated that ballot tabulation equipment in their jurisdictions can still read these ballots," the site says.
If a ballot cannot be scanned properly, the agency adds, it can be hand counted, duplicated or adjudicated by election officials.
Dan Wallach, a computer science professor at Rice University in Houston, Texas, told AFP: "There's nothing wrong with Sharpies. Ballots are designed such that 'bleed-through' isn't a problem because they carefully make sure that two-sided ballots don't have bubbles that overlap."
Wallach, who specializes in cybersecurity and electronic voting systems, also said that "while the exact details vary from state to state," the adjudication process often "boils down to determining the 'intent of the voter.'"
Common reasons for adjudication include ballots with write-in candidates, which computers cannot read, as well as votes that are unreadable by scanners.
Wallach said the process involves a panel, usually consisting of four people, determining the intent of the voter. If everyone agrees, he said they mark a new ballot "with everyone watching," often accompanied by a code or a signature.
The new ballot then replaces the original, Wallach said. The associated code allows the original and the replacement to be tracked for subsequent disputes.
"I've watched this process in action, in multiple different states, and everybody is surprisingly good-natured about it. It's unlikely that this process would serve as a venue for election fraud," Wallach said.
AFP has fact-checked other misinformation about the midterm elections here.