Dominion Voting servers were not seized in Germany
Claims that Dominion Voting had servers confiscated in Germany by the US military gained traction online as Donald Trump and his supporters continued to try and blame the election technology company for fraud in the vote. This is false; German authorities, the company and the US Army denied that any such operation took place.
"HUGE! Attorney Sidney Powell CONFIRMS Alleged Dominion Servers in Germany Were Confiscated," reads a November 19, 2020 headline from The Gateway Pundit, a website that describes itself as politically conservative and has been fact-checked by AFP for false claims about the election.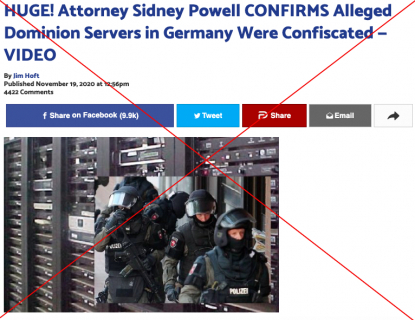 A screenshot of the Gateway Pundit article taken on November 23, 2020
Powell had been assisting the Trump campaign in its claims of voter fraud. Asked at a November 19 press conference about reports that "a piece of hardware, probably a server" was picked up in Germany, Powell replied: "That is true."
Trump lawyer Rudy Giuliani has since released a statement in which he distanced himself from Powell and said, "She is not a member of the Trump Legal Team."
The article, and other posts like it, claims that Dominion Voting illegally used the servers of Spanish voting technology company Scytl in Germany to store and manipulate US election information. 
It claimed that German authorities seized the server with US military support in Frankfurt.
But the claims of the server confiscation are unfounded.
Scytl
In a November 13 press release published on its website, Barcelona-based Scytl denied its servers were seized. The company said it "does not even have offices in Frankfurt and does not have servers in the German city."
The release added that Scytl "did not provide any electronic voting machines to US jurisdictions and does not tabulate, tally, or count votes in US public elections."
Scytl did provide four tools for the US general election (listed below), but none were used by voters or by voting authorities to count votes.
Screenshot of the Scytl website taken on November 19, 2020
In the same release, Scytl stated that it had no connection to Dominion, which provides voting technology to many US jurisdictions. Trump falsely accused Dominion of vote switching in the 2020 election which he is projected to have lost to Democrat Joe Biden. 
German and US authorities
Contacted by AFP, police in the German state of Hesse, where Frankfurt is located, said that they did not have any knowledge of a US Army operation to seize servers in its jurisdiction.
"The Hesse state's criminal investigation bureau did not lead, nor provide any support to the police action described in this article," the bureau's spokesman Sebastian Wolf told AFP. "We have no knowledge of any such action," he added.
Maximilian Kall, a spokesman for the German Ministry of Justice, told AFP that "it is false to say that servers were seized in connection with the US elections," adding that "There was no request for judicial cooperation from the United States in relation to the November 3, 2020 election."
Lieutenant General
In late November, a variation of the claim emerged in posts saying a raid in Germany attacked a CIA server farm in Frankfurt, resulting in the death of five US soldiers. 
A screenshot of a post taken on December 2, 2020
Examples of the claim can also be found on Facebook -- here and here -- and on Instagram, here and here. 
The posts often cite Lieutenant General Thomas McInerney as the source of the claim. The retired three star general was interviewed on November 28 by Brannon Howse of the WVW Broadcast Network, which has published multiple online articles amplifying claims of fraud in the 2020 presidential election.
Around the 40 minute mark of the interview McInerney said US soldiers were killed during an operation in Frankfurt at a CIA facility but added "he had not been able to verify" the information about the casualties. 
McInerney has courted controversy in the past, including questioning former president Barack Obama's birth records. In 2018, McInerney lost his role as a Fox News analyst after claiming that torture "worked" on the late Senator John McCain during the Vietnam War.
An Army spokesperson confirmed to AFP that the allegations of a US Army raid on a server farm in Germany were false. 
Other posts included pictures of the soldiers supposedly killed in the raid.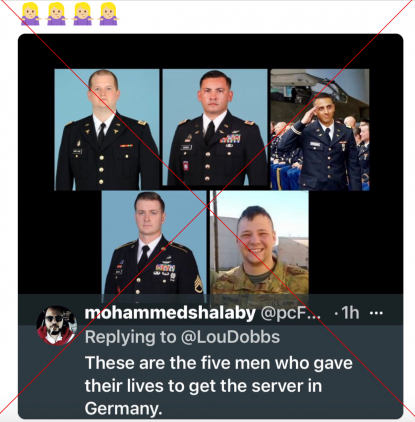 A screenshot of a tweet taken on December 2, 2020
A statement released on November 14 by the US Army confirms that the deaths of the officers shown in the post above actually resulted from a helicopter crash. 
The soldiers "were assigned to Task Force Sinai, stationed in Egypt. They died as a result of a helicopter crash on Tirian Island on Nov. 12, 2020," Captain Paul O'Daniel, Public Affairs Officer for the US Army Central, said by email. 
Texas representative
In addition to Powell, the Gateway Pundit article cites an interview given by Louie Gohmert, a Texas Republican Congressman, to Newsmax, a channel that is seeking attract viewers from Fox News.  
He repeated the claims during a conference on election integrity streamed on Facebook and then on Twitter on November 13.
Gohmert mentioned tweets written in German (here and here) explaining that the US military seized servers at Scytl offices.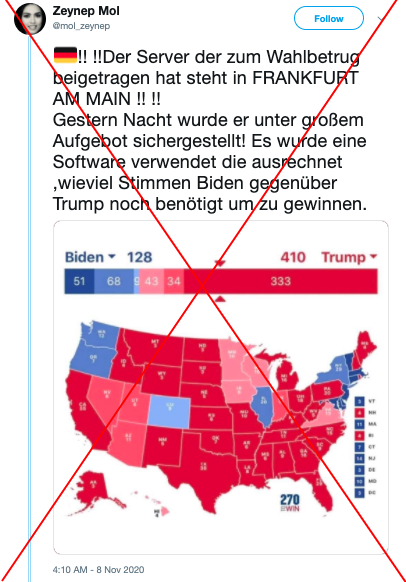 Screenshot of a tweet taken on November 23, 2020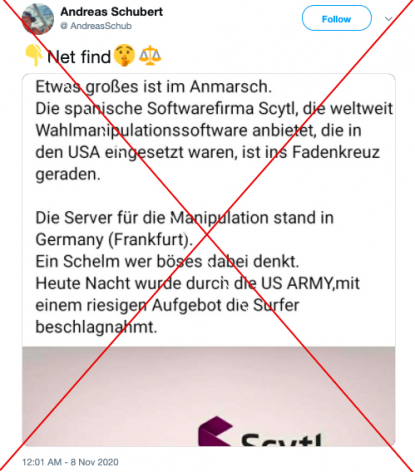 Screenshot of a tweet taken on November 23, 2020
When asked to provide details on his allegations, Gohmert did not return AFP requests for comment.
False claims around Dominion's voting technology began to take off after Trump falsely tweeted on November 12 that the company had deleted 2.7 million votes for him and reattributed some to Biden. 
The president did not provide any evidence other than a report from the One America News Network. 
A joint statement by US federal and state election officials said they found "no evidence that any voting system deleted or lost votes, changed votes, or was in any way compromised."
Other false claims of voter fraud debunked by AFP can be found here. They include claims that votes were added to Biden's tally in Wisconsin, and that dead people voted in Georgia.
EDIT: This article was updated on December 5, 2020 to add additional claims and evidence.

This fact check is available at IFCN's 2020 US Elections FactChat #Chatbot on WhatsApp. Click here for more.