Photos are from Uganda, don't show Kenyan police surrounding president-elect Ruto's home
A day after Kenya's presidential election was held on August 9, 2022, two images appeared on social media with claims that they showed police surrounding the home of candidate William Ruto after he was allegedly placed under house arrest. However, the story is false: Ruto, who went on to win the elections, has not been under house arrest. AFP Fact Check found the photos were taken in Uganda in 2016 and 2021.
"William Ruto's home is blocked by the police as of now he's under preventive arrest (sic)," reads a Facebook post published on August 10, 2022, featuring two images.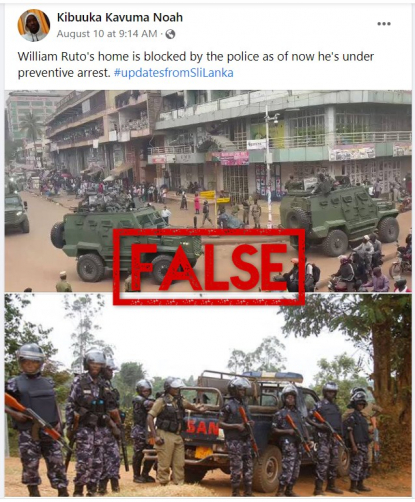 Screenshot showing the false post, taken on August 18, 2022
The first photo shows a convoy of armoured military vehicles moving through a downtown area. The second one is of anti-riot police standing guard.
The second photo appeared with the same claim on Twitter where it was retweeted more than 500 times and generated thousands of likes.
The Independent Electoral and Boundaries Commission's (IEBC) chairman Wafula Chebukati declared Ruto the winner of Kenya's tight presidential race on August 15, 2022, but not before four electoral commissioners publicly rejected the results, reviving memories of vote-rigging and deadly violence in 2007-08 and 2017.
Ruto tallied 7.18 million votes (50.49 percent), pipping his nearest rival Raila Odinga with 6.94 million votes (48.85 percent).
But the photos don't show Kenyan security officers and military trucks being deployed against Ruto in the wake of the polls.
Old photos from Uganda
Reverse image searches revealed the pictures were taken in neighbouring Uganda.
The first photo shows a convoy of armoured military trucks patrolling the streets of the capital Kampala during the country's 2021 general elections.
The image matches visuals from a video shared on Twitter by the Daily Monitor, a leading news organisation in Uganda.
President Yoweri Museveni was declared the winner with 5.85 million votes (58.6 percent). Rival Bobby Wine received 3.48 million votes (34.8 percent).
Using Google Maps, AFP Fact Check geolocated the Raven Plaza building seen in the original photo by matching common features, like an archway above the building's entrance.
Screenshots comparing the Raven Plaza building in the image (L) to Google Maps
The second photo was published in an article by Ugandan news site Eagle Online in 2016.
The author, Uganda-based journalist Richard Wanambwa, told AFP Fact Check the photo was taken outside opposition leader Kizza Besigye's home in Kampala during the 2016 general elections when he had been placed under house arrest.
AFP photographer Isaac Kasamani was also on the scene at the time and snapped pictures of the same riot police outside Besigye's home.
Uganda police outside Kizza Besigye's Kampala home in February 2016 ( AFP / ISAAC KASAMANI)
Besigye was put under house arrest after rejecting the results of the elections that Museveni won.
"Ruto was not placed under house arrest after the vote," Ruto's spokesman Hussein Mohammed told AFP Fact Check.
On August 12, 2022, three days after Kenyans voted, Ruto hosted AU-COMESA elections observers in his Nairobi residence.
At the Karen Office, held a meeting with the AU-COMESA Election Observer Mission who congratulated Kenya and voters for a peaceful election. pic.twitter.com/8AAmoPHXvV

— William Samoei Ruto, PhD (@WilliamsRuto) August 12, 2022