Video shows Ugandans celebrating return of athletes, not election result in Kenya
Hours after Kenya's William Ruto was declared the fifth president-elect on August 15, 2022, a video surfaced online purporting to show people celebrating the outcome in neighbouring Uganda. The claim, however, is false: the video was posted online five days before the election announcement was made and actually shows Ugandans welcoming home medallists and athletes from the Commonwealth Games in England.
"Overnight celebrations in Kapchorwa, Uganda after Ruto win," reads the caption of a Facebook post published with a video on August 15, 2022.
The clip, viewed more than 5,000 times, shows people celebrating outside at night. One person is holding a Ugandan flag.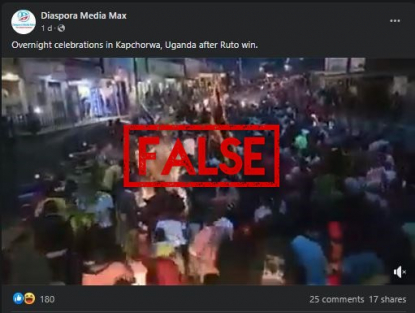 A screengrab of the false Facebook post, taken on August 18, 2022
Ruto was declared the winner of the August 9 polls after defeating his main rival, Raila Odinga.
The same video and claim were shared elsewhere on Facebook and Twitter here, here and here.
But the story is false.
Ugandans celebrate medal champs

A keyword search for "celebrations in Kapchorwa" on YouTube led to this video uploaded on August 12, 2022 — three days before Ruto was announced president-elect.
"Jacob Kiplimo and team arrives at Home Kapchorwa (Sebei) from the #commonwealthgames2022 (sic)," the caption reads.
By conducting a Twitter search, this time with the keyword "#commonwealthgames2022", AFP Fact Check found the same video tweeted here on August 11, 2022.
The clip was posted by Cherop Mark Cherirei, a radio host at Kapchorwa Trinity Radio who confirmed he took the video in Kapchorwa (formerly Sebei), a town located on the northern slopes of Mount Elgon in eastern Uganda.
It was "during the procession to welcome the athletes back from the Commonwealth Games 2022," he told AFP Fact Check.
For additional confirmation, we identified an orange shop sign with the words "Kapchorwa Branch" seen at the beginning of the video and matched it to a photo of local businesses on Google Maps.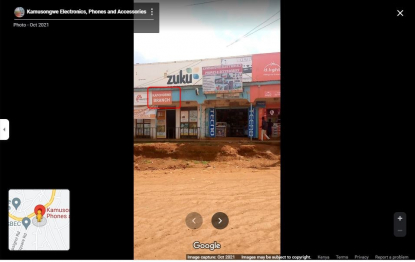 Screenshot taken on August 18, 2022, from Google Maps showing the orange sign board, also visible in the video
An almost identical image can be found on the website of a local electronics business situated next to the orange shop sign at Chemonges Square Junction in Kapchorwa.
A screenshot taken on August 19, 2022, from the website of a business in Kapchorwa
Uganda bagged five medals at the Commonwealth Games which ended on August 8, 2022 in Birmingham, England.
Ruto's victory did spark some celebrations in Uganda among traders plying their business along the border with Kenya, according to this report.
Odinga, meanwhile, rejected the results but urged his supporters to remain peaceful.
Nairobi-based journalist Julian Kamau contributed to this fact-check.