Video does not show Kenyan presidential hopeful Raila Odinga asking supporters to heckle rival
A video of Kenyan presidential hopeful Raila Odinga addressing a campaign rally has been shared on Facebook alongside a claim that it shows the veteran politician encouraging young people to heckle his rival Deputy President William Ruto during Madaraka Day celebrations. But the claim is misleading: in the clip, where Odinga speaks in Swahili, he does not ask his supporters to heckle Ruto, but rather to turn up in large numbers at the celebrations led by President Uhuru Kenyatta.
The 34-second video was published on Facebook on May 31, 2022, and has since been shared nearly 70 times and viewed more than 56,000 times.
"Raila mobilizing youth to hackle Ruto during Madaraka day celebration (sic)," reads the post's caption.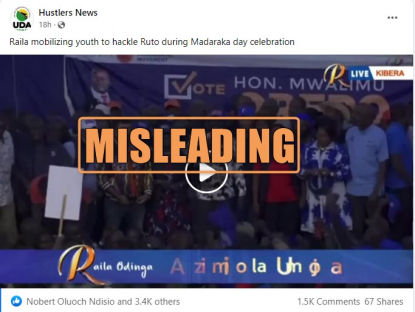 Screenshot showing the misleading post, taken on June 1, 2022
The video, shot at dusk, shows Odinga addressing a jubilant crowd.
On May 31, 2022, politicians affiliated with Odinga's party, Azimio la Umoja One Kenya, held a series of rallies in Nairobi county. Odinga joined them in Langata and in Kibra, where the clip was filmed.
Kenya is set to hold general elections on August 9, 2022. Four-time presidential contender Odinga and Ruto, leader of the Kenya Kwanza Alliance, are seen as front runners.
The race between the two veteran politicians is expected to be close, with Kenyatta backing his former rival Odinga rather than his deputy.
But the video does not show Odinga asking Kibera youth to heckle Ruto.
Odinga's rally
AFP Fact Check listened to the full clip, in which Odinga addresses his supporters in Swahili;  nowhere in the video does he ask them to heckle Ruto.
"Tomorrow, Kenya marks its 59th Madaraka Day celebrations here at Uhuru Gardens," Odinga says. "We will be celebrating the 59th year of independence. The ceremony will be President Uhuru Kenyatta's last state function as the Head of State. I am asking you to come to the event tomorrow early and in large numbers, will you come?"
The crowd shouts back in agreement.
Kenyatta's last state function
On June 1, 2022, Kenyatta presided over a ceremony marking the country's attainment of self-rule in 1963, which took place in Uhuru Gardens, Nairobi.
This marked his last state function as the country's leader, with his second and final term nearing its end. 
There has been an increasing amount of misinformation spreading in Kenya as polls draw nearer. AFP Fact Check has debunked claims linked to the elections here, here and here.