Image does not show CTV article about monkeypox in Canada
Social media posts share an image of a purported article from CTV News claiming that most monkeypox cases investigated by officials in Canada turned out to be cases of shingles. This is false; the Canadian broadcaster did not publish such a story and an expert said that while the two diseases might cause similar symptoms, the infection results from completely different viruses.
"Health officials investigating two dozen suspected cases of monkeypox across Canada found that 95% cases are shingles," reads a headline attributed to CTV News in a May 22, 2022 tweet.
Screenshot of a tweet taken on May 25, 2022
The claim also circulated on Facebook as an image, without a link to the purported article.
A search for the headline on the CTV News website found no such story. The article pictured in the social media posts is not authentic, according to the broadcaster.
Rob Duffy, CTV News manager of communications at its parent company Bell Media, told AFP in an email: "I can confirm that CTV News never published such a story and that the screenshot does not show an authentic article from CTV News."
The image circulated as cases of monkeypox were detected around the world, including Canada.
Canadian health officials have made no comment on shingles in recent public statements but said they had confirmed 16 cases of monkeypox as of May 25, 2022.
Monkeypox mainly spreads through close contact with an infected person, and symptoms include fever and rashes.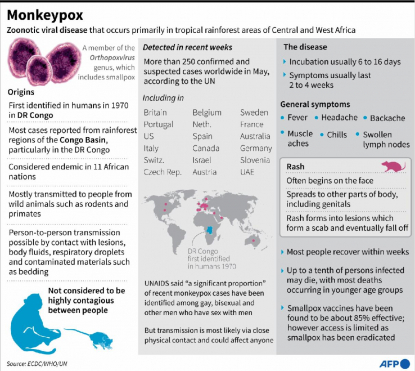 Factfile on monkeypox and its current outbreak ( AFP / John Saeki, Nick Shearman)
But while some symptoms might be similar in cases of shingles and monkeypox, they are not caused by the same virus, according to Isaac Bogoch, professor at the Temerty Faculty of Medicine at the University of Toronto.
Bogoch told AFP: "There may be some overlap in their clinical presentation," but "monkeypox and shingles are two completely different infections."
According to the US Centers for Disease Control and Prevention, the monkeypox virus comes from the Orthopoxvirus genus, which also includes the variola virus (which causes smallpox).
On the other hand, shingles is caused by varicella zoster virus , the same virus that causes chickenpox.
AFP Fact Check has identified a pattern of false claims shared via altered images of CTV News articles. Posts that impersonate national news organizations to lend credence to a claim have also been spotted in the US and UK, particularly to spread misinformation about the war in Ukraine.