Alabama abortion ban not enforced, contrary to social media claims
Social media posts claim an Alabama law imposes criminal penalties on those who receive abortions. This is false; the legislation in question was blocked by a federal judge in 2019, weeks before it was due to take effect, and the southern state does not penalize someone who gets an abortion.
"In Iran if a 12-year old girl is raped and impregnated by her father, she must carry the baby to term, or be thrown in prison for life. Wait, sorry, no. That's Alabama," says a screenshot of a tweet shared May 11, 2022 on Facebook.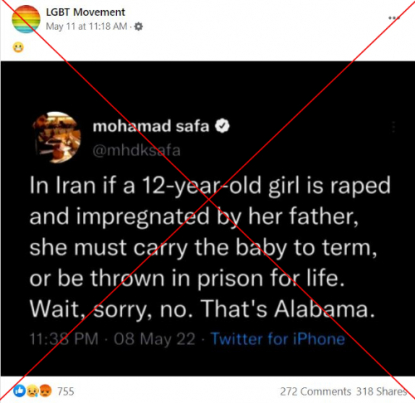 A screenshot of a Facebook post taken on May 17, 2022
The claim gained popularity on social media after Occupy Democrats, a liberal Facebook page with 10 million followers, shared the same text in a May 10, 2022 post. The page later corrected its post.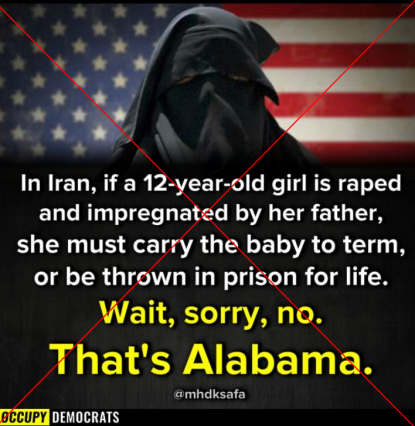 A screenshot of a Facebook post taken on May 13, 2022
The posts circulated online after Politico reported in early May that a leaked draft opinion indicated the conservative-dominated US Supreme Court was prepared to overturn Roe v. Wade, the landmark 1973 decision that made abortion a right nationwide.
But the posts contain false information.
Alabama's 2019 abortion legislation bans almost all abortions in the state and defines "an abortion performed in violation of this act" as a Class A felony. In Alabama, a Class A felony is punishable by life imprisonment, or not more than 99 years or less than 10 years.
However, a federal judge blocked the law in 2019 after ruling it unconstitutional. The law is not currently enforced.
The legislation aims "to make abortion and attempted abortion felony offenses except in cases where abortion is necessary in order to prevent a serious health risk to the unborn child's mother," according to the text. If Roe was overturned, performing an abortion in Alabama would be considered a felony in most instances -- meaning physicians could face criminal charges.
But the law adds: "No woman upon whom an abortion is performed or attempted to be performed shall be criminally or civilly liable."
"Woman" is the term used in the text to define the potential recipient of an abortion, "whether or not she has reached the age of majority." The law does not define any exceptions for minors who receive the procedure, or for those who are victims of incest or rape.
Michelle Oberman, a professor specializing in health law at Santa Clara University, told AFP that Alabama does not currently have a law penalizing abortion. She said no law that does so will be enforceable until the Supreme Court makes a final decision on Roe v. Wade.
"After that, all bets are off," she added.
AFP Fact Check has debunked other claims following the leak of the Supreme Court's draft opinion, here and here.