Philippine top senate pick warns against fake account pledging cash handouts
Facebook and blog posts shared thousands of times claim Filipino actor-turned-politician Robin Padilla, who leads the senate count in the May 2022 elections, has pledged to hand out financial aid to all citizens. However, the claim was shared on an imposter social media page. Padilla said he was not doling out cash and AFP did not find any record of handout announcements on his official channels, as of May 17.
"P10K Financial Aid From Robin Padilla," reads a Tagalog-language Facebook post from May 13 shared more than 16,000 times.
The post was shared on a page called "SEN. IDOL ROBIN Padilla", which has 70,000 followers, after an initial count showed the action star leading the senate vote.
The May 9 polls saw the son of a former dictator, Ferdinand Marcos Jr secure a landslide presidential win in an astonishing reversal in the fortunes of the Marcos family, who have gone from the presidential palace to pariahs and back again in the space of a few decades.
The post features a graphic bearing an image of Padilla alongside a similar claim.
The post also shares links to a blog where people are invited to register for aid.
Ten thousand Philippine pesos is equivalent to $190.
Screenshot of the false post taken on May 16, 2022
Similar posts circulated widely on Facebook here, here, here and here.
Many social media users appeared to believe the posts were promoting a genuine cash handout scheme.
"Congratulations sir Robin Padilla I hope I'm one of the chosen not for myself but for my parents. Thank you and God bless," read one comment.
"Sen. Robin Padilla hope you can choose me God bless," said another.
However, the claim is false.
Imposter posts
Padilla said the posts were "fake news".
In a statement posted on Facebook on May 12, he said in Tagalog: "There are posts being shared on social media bearing my image and claiming I am handing out financial aid.
"At all times, I am ready to help as much as I can. But this time, I want to let you know that these posts are fake news."
Padilla's official Facebook page features a blue verification badge and was created on May 27, 2011.
However, the "SEN. IDOL ROBIN Padilla" Facebook page, which shared details of the fake cash handout scheme, does not have a blue badge and was created on May 13, 2022.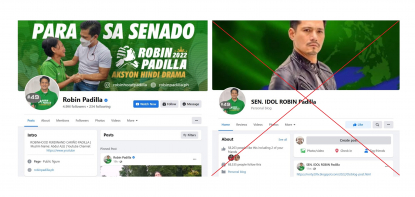 Robin Padilla's official Facebook page (left) and his imposter account (right)
Keyword searches on Padilla's website and social media accounts did not find any mention of him pledging to hand out financial aid after the election, as of May 17.
AFP previously debunked a scam pledging cash handouts to mothers in the Philippines during the pandemic and another rumour the Philippine government was doling out cash to all voters ahead of the 2022 polls.