Hoax report promotes 'Covid-19 cash handouts for mothers' in the Philippines
Multiple Facebook posts have shared a purported news report claiming mothers in the Philippines became eligible for a 10,000 pesos (USD200) handout after a Covid-19 lockdown was announced in some regions. But multiple government officials told AFP the claim is false. The hoax report was originally posted by an imposter site.
The claim was shared in this Tagalog-language post on Facebook on August 23, 2021.
It states mothers in the Philippines can apply for a handout through the "DSWD" -- the Department of Social Welfare and Development.
The post translates to English as: "Mothers will receive 10,000 pesos according to the DSWD and the president. Every mother in the country will be given [this]. Sign up now".
The post links to an article on a website called "KBS WORLD TV".
The article translates in part as: "I thank President Rodrigo Duterte for answering our plea to provide financial assistance to those affected by ECQ [enhanced community quarantine] in NCR [National Capital Region] from August 6 to 20".
ECQ refers to the strictest lockdown restrictions implemented in August in the Philippines' NCR and other areas to curb surging virus infections.
Screenshot of false post taken on August 31, 2021
The same article was also shared here, here and here on Facebook.
The posts are false.
"There was no announcement whether via a press briefing or a press release issued by the Department stating that all mothers will be given an assistance... amounting to 10,000 pesos due to the recent lockdown," Irene Dumlao, officer-in-charge for the DSWD's social marketing service, told AFP on August 31.
The government offered handouts of up to 4,000 pesos to poor families affected by lockdown in August, according to this memo.
The memo did not mention specific handouts for mothers.
President Duterte's spokesman Harry Roque also told AFP on September 1 that the claim in the posts was false.
Imposter site
A representative for KBS World told AFP the website that published the false report is not connected to its network.
KBS World's official website can be seen here.
Below is a screenshot comparison of the imposter site (L) and the news section in KBS World's genuine website (R):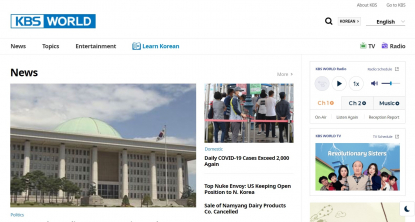 Keyword searches on Google show the article in the imposter site was copied from a press release on August 3, 2021.
It was issued by the office of Philippine Senator Christopher "Bong" Go.
The press release did not state Filipino mothers were eligible to receive handouts of 10,000 pesos during lockdown.
Philippine fact-checking organisation VERA Files also debunked the false claim here.