Wearing a face mask does not put you at risk of developing pleurisy, health experts say
Multiple posts shared tens of thousands of times on Facebook and Twitter claim that a woman contracted pleurisy, a lung inflammation condition, after wearing a face mask for an extended period of time. According to the posts, the unidentified woman caught the disease because she was breathing in carbon dioxide and her own bacteria. The claims are false; pulmonologists say wearing a face mask does not put you at risk of developing pleurisy, nor does it deprive users of adequate oxygen or cause a surge in carbon dioxide levels.
The claim was posted here on Facebook by an Australia-based user on July 26, 2020. It has been shared more than 170 times.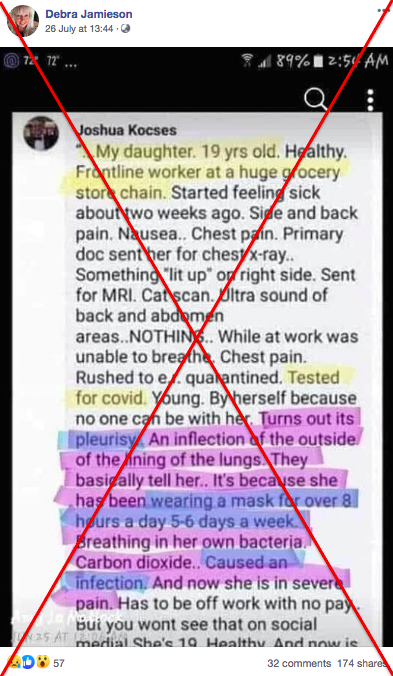 A screenshot taken on July 30, 2020, of the misleading post
A purported screenshot included in the Facebook post claims a 19-year-old woman contracted pleurisy after wearing a face mask for eight hours a day, five or six days a week. "They basically tell her… it's because she has been wearing a mask for over 8 hours a day 5-6 days a week. Breathing in her own bacteria. Carbon dioxide… Caused an infection." 
The post circulated as governments worldwide continue to recommend or mandate the wearing of face masks in an attempt to limit the spread of COVID-19. Authorities in the Australian city of Melbourne, for example, made wearing masks in public compulsory on July 23, 2020, AFP reported here. 
The move towards mask wearing came after the World Health Organization (WHO) on June 6, 2020, changed its advice and advocated for face masks for their ability to "protect people wearing the mask from getting infected, as well as can prevent those who have symptoms from spreading them." The advice coincided with the emergence of conspiracy theories that allege wearing masks will negatively affect people's health, as reported by Australian and international media here and here.
Similar claims about face masks were shared more than 100,000 times on Facebook here, here, here and here, and on Twitter here, here, here and here. It also circulated here on Facebook in Dutch.
The claims, however, are false, health experts say.
Pleurisy claim 
The Department of Health in the Australian state of Victoria does not list face masks as a cause of pleurisy. The condition, the agency says, is caused by viral infection, bacterial infection, cancer, blood clot in the lungs and autoimmune conditions.
Dr. Leon van den Toorn, president of the Dutch Association of Doctors for Lung Diseases and Tuberculosis and a pulmonologist at the Erasmus University Medical Centre, dismissed the claim as "complete nonsense". 
"There is simply no indication that a face mask carries any health risk whatsoever," van den Toorn said. 
Infection claim
Dr. Hans in 't Veen, a pulmonologist at Franciscus Gasthuis & Vlietland, told AFP: "A face mask used normally will not give you an infection in the lungs. Perhaps in the case of a fungus it's possible, but it would have to be a face mask that hasn't been changed for months and is extremely dirty." 
AFP previously debunked here a false claim that blames face masks for fungal lung infections. 
Carbon dioxide claim
Van den Toorn rejected claims that mask wearers would be deprived of adequate oxygen or that they would be breathing in an excessive amount of carbon dioxide, adding that humans breathe in their own bacteria irrespective of whether they are wearing a face mask, "because they are in your mouth." 
"Inhaling and exhaling air happens in more or less the same way as [without a face mask]. Air passes around and through the face mask so there's no question about it causing a lack of oxygen," he says. 
Dr. Shelley Payne, the interim director of the LaMontagne Center for Infectious Disease at University of Texas at Austin, echoed that: "A properly fitted mask will not cause hypoxia."
AFP debunked a separate claim about face masks causing hypoxia, a condition in which the body is deprived of adequate oxygen supply, here. Other false claims that allege face masks can cause a surge in carbon dioxide level have also been addressed by AFP here and here.
AFP has also debunked a false claim that wearing masks can compromise a person's immune system.