Urban legend about carjackings revived on Facebook in Canada
Facebook posts shared thousands of times in Canada and the United States repeat a purported warning from police about a tactic used by criminals to commit carjackings. But police in Manitoba say the warning is a hoax, the Insurance Bureau of Canada called it an urban legend, there is no evidence of an uptick in car theft in areas where the post was shared, and the message has circulated online since at least 2011.
"WARNING FROM POLICE," begin posts shared in May 2020 in Manitoba and Ontario, Canada. "BEWARE OF PAPER STUCK ON THE BACK WINDOW OF YOUR VEHICLE--NEW WAY TO DO CARJACKINGS," they claim. 
Screenshot taken on June 16, 2020 of a Facebook post
Screenshot taken on June 16, 2020 of a Facebook post
A search using social media monitor CrowdTangle showed that the same claim was also shared in May 2020 by the Facebook pages of US police departments in South Dakota and Oklahoma and by other US accounts in June 2020 here and here.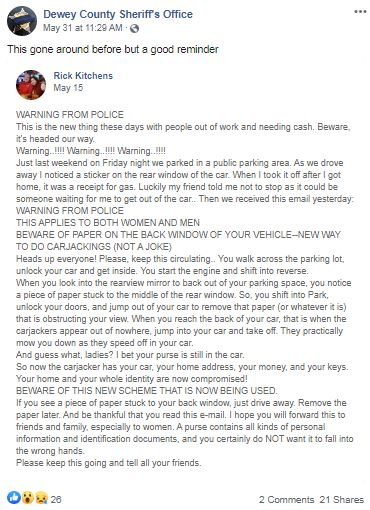 Screenshot taken on June 17, 2020 of a Facebook post
Screenshot taken on June 17, 2020 of a Facebook post
The post is not new. An identical post from 2019 from an account in the US state of Kentucky has been shared more than 979,000 times, while one from November 2018 from an account in Britain has more than 662,000 shares.
In Canada, AFP traced the text of the post back to 2011, where it was shared as an article by the Canadian Association for Retired Persons (CARP). CARP did not respond to questions about the claims by the time of publication.
"Seems like an urban legend," Steve Kee, director of external communications for the Insurance Bureau of Canada (IBC), said in an email. 
Cybersecurity expert Joseph Steinberg explained that misinformation of this type is particularly hard to remove from platforms such as Facebook because the warnings change slightly over time. He said this warning has origins in another false story which claimed carjackers would leave a $100 bill on the car. That claim was debunked by fact-checking organization Snopes in 2004.
In Manitoba, Paul Manaigre, spokesman for the Royal Canadian Mounted Police, told AFP by email on June 17, 2020: "This is indeed a hoax and seems to surface every few years on social media. I can assure you we have not had any reports of this nature in Manitoba."
Staff Sergeant Carolle Dionne of the Ontario Provincial Police said in a June 18, 2020 email: "I'm not aware of any cases which have occurred in Ontario / OPP jurisdiction."
But she declined to call the message a hoax, cautioning that "drivers and individuals must be cognizant of their surroundings at all times and exercise personal safety no matter the situation."
AFP also spoke with Dewey County Sheriff Lef Mayer and Brandon Rogers, chief of police in Cordell, Oklahoma, who confirmed that although they shared the post, it was not because there had been this type of carjacking locally. 
"I've been a police officer here for 20 years and I haven't had a carjacking yet," Rogers said.
Mayer said the same thing and both explained that their departments had shared the warning to raise public awareness about the potential risk of crime when visiting a larger city.
However, Frank Scafidi, director of public affairs for the National Insurance Crime Bureau (NICB) said in an email: "There is not a high risk of becoming a carjacking victim, but like with any crime, there is a risk. The best any of us can do is to minimize our risk by following some security awareness tips. For example, always, always, always lock your vehicle and take the key/fob with you. That alone is a huge deterrent."
Steinberg, founder of SecureMySocial, added that there is a danger in false warnings continuing to spread on social media. If people "see that all the warnings they're getting turned out to be for things that are bogus and are not really a danger, when they get a warning on something that is dangerous, they may ignore it."
In December 2019, the IBC reported that despite 236 motor vehicles being stolen in Canada every day, the rate of theft is 38 percent lower than in 2008. 
Statistics provided by NICB, meanwhile, showed that in 2018 -- the latest data available -- car theft in the US had fallen 55 percent from a high of 1,661,738 reported thefts in 1991.
"All in all, vehicle theft is not nearly the problem it was in 1980s-1990s," Scafidi said.
He added: "We should not live in fear of falling victim to a carjacking -- or any other crime -- but just be aware that these things happen and practice some basic personal security techniques."