Using face masks does not cause hypoxia
Posts on Facebook claim that prolonged use of face masks causes hypoxia -- a lack of oxygen in the body. The claim, however, is false; as long as they are worn properly, the commonly used piece of personal protective equipment does not block the path of oxygen, experts say.
"Breathing over and over exhaled air turns into carbon dioxide, which is why we feel dizzy... It causes discomfort, loss of reflexes and conscious thought. It generates great fatigue," one post says after making the hypoxia claim.
The claim also appears on Facebook here and on Twitter here, and has been shared in Spanish more than 23,000 times since at least April 30, 2020.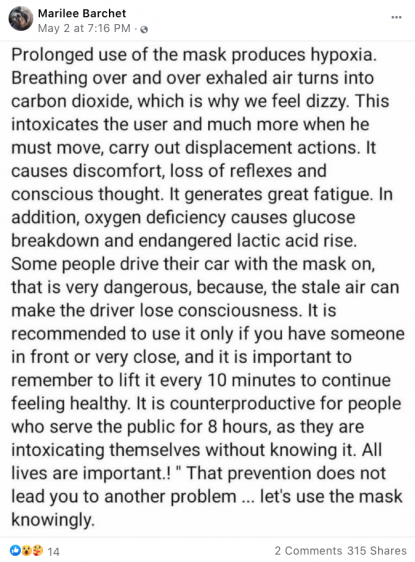 A screenshot of a false Facebook post, taken on May 6, 2020
Dr. Shelley Payne, director of the LaMontagne Center for Infectious Disease at the University of Texas at Austin, said that correctly worn masks allow the flow of air, and carbon dioxide does not accumulate.
"A properly fitted mask will not cause hypoxia," she told AFP in an email.
Dr. John Criscione, professor of biomedical engineering at Texas A&M University, told AFP by email: "If someone is experiencing hypoxia then the mask is either too restrictive or they may have an underlying medical condition that makes them less able to accommodate a modest restriction to breathing.
"The person may need a positive air pressure respirator, a much more complex device with a filter and compressor to make breathing easier."
Claudio Mendez, health policies professor at the Austral University of Chile, agreed that as long as the mask material permits airflow, wearing it will not cause hypoxia.
In the case of masks worn by health professionals, he said: "N95 masks should not be worn for more than seven hours. Surgical masks can be used for a shorter time. Both are far from causing hypoxia."
Regarding the effects of hypoxia on the human body, he added: "It can result in fainting, disorientation, coordination problems, and changings in cardiac rhythm. It can severely affect the normal physiology of a human being."
The Facebook post also asserts that it is "counterproductive" for people in public for more than eight hours to wear masks because "they are intoxicating themselves without knowing it." 
Addressing this claim, Mendez reiterated that health workers shouldn't use masks for more than seven hours, but for reasons unrelated to hypoxia. "A mask doesn't last more than seven hours because it has already been exposed to the virus for a long time and loses its effectiveness," he said.
The post also recommends lifting the mask every 10 minutes to feel "healthy."
In the context of the novel coronavirus pandemic, the World Health Organization actually recommends the opposite -- not touching the mask at all.
"If you do, clean your hands with alcohol-based hand rub or soap and water," the WHO website reads.
The WHO does not mention hypoxia as a potential side effect of wearing a mask.
The US Centers for Disease Prevention and Control also does not cite any such risk, although the website says that masks are not recommended for children under two or for anyone who has trouble breathing, is unconscious or is otherwise incapacitated.
Claim also circulates in Africa
The claim also surfaced in Africa including in posts here, here and here. Experts there have also largely dismissed the hypoxia risk.
"You only rebreathe carbon dioxide if you do not have air exchange but this is not the case while wearing a proper mask. Air goes in and out of masks just fine," Nairobi-based infectious disease specialist Rodney Adam told AFP.
Meanwhile, some experts have cautioned that children under the age of two-years should not wear masks because they can easily choke as they cannot verbalise difficulties in breathing.
Kenyan infectious disease epidemiologist Mark Nanyingi also warned that people suffering from chronic respiratory illnesses may exert unnecessary pressure on their lungs while wearing masks.
"A person with chronic obstructive pulmonary disease can easily suffer from hypoxia or hypercapnia while wearing face masks for prolonged hours as their lungs are already under pressure and doing so they place themselves at a higher risk," he told AFP, adding that mask fabric should allow for air circulation and not be tight-fitting. 
AFP Fact Check has debunked more than 430 examples of false or misleading information about the novel coronavirus. You can find the complete list of our fact-checks on the topic in English here.
This article was translated from Spanish by Claire Savage in Washington. Mary Kundulu in Nairobi
updated this report on May 14, 2020.