This video shows an algal mass called red tide filmed in South Africa's Western Cape
Multiple posts on Facebook have shared a video with a claim that it shows the annual sardine run along the coast of South Africa's Eastern Cape province. This is false; although the yearly migration of the silvery fish is currently taking place along the country's eastern coastline, the video on Facebook shows an algal bloom known as red tide that appeared in the Western Cape.
The 20-second video in the Facebook post has been shared more than 3,200 times since it was published on April 19, 2021. Recorded from a helicopter, the footage shows a dark ocean mass approaching the shoreline.
"BIGGEST SARDINE RUN IN 100YEARS PREDICTED SARDINES NOW AT EAST LONDON," the post's caption reads.
A screenshot of the false Facebook post taken on April 23, 2021
Similar claims were shared hundreds of times here and here on Facebook, but some people commenting on the post noted that the clip actually depicts red tide and not the annual sardine run.
Red tide in False Bay
According to Stephen Lamberth, a fisheries researcher at the Department of Environment, Forestry and Fisheries (DEFF), the video was shot during a flight over the Helderberg Marine Protected Area in Strand, Cape Town, evident from the Helderberg Mountains and Lourens River estuary in the background.
"The dark reddish brown colour of the water (red tide) is from a very dense phytoplankton bloom of mostly the dinoflagellate Ceratium furca [a type of algae]," said Lamberth. "It is non-toxic but occurs at very high densities, which depletes oxygen levels at night, and when it eventually dies and decays."
Red tide is a common occurrence on the western and eastern coasts of South Africa, especially at this time of the year, Lamberth explained, adding that there were "localised fish kills" in the days after the footage was taken. 
"South easterly winds drive upwelling of cold nutrient rich bottom water on which phytoplankton thrive. The blooms occur in the still relatively less windy period following the upwelling," Lamberth said.
The same video and a description of the phenomenon of red tide was also shared on Facebook by Just Africa Scuba, a locally-based scuba diving operator. 
"Red Tide is a common occurrence on the west coast at this time of year and is caused by a specific type of Plankton," reads part of their post's caption, published on April 9, 2021.
AFP Fact Check contacted the group, who confirmed that the footage showed red tide, an annual event driven by the wind. 
"All the locals know by now when they see the water turning brown and smelling a specific smell it is the red tide again," said Mari van Wyk, a spokeswoman for Just Africa Scuba. 
Van Wyk said the footage clearly showed red tide because the mass was too vast to be a shoal of sardines, which also attract predators from below and above. 
"With a shoal of sardines you will see birds flying and catching fish with other sea mammals feasting on the sardines," van Wyk said in an email to AFP Fact Check. None of this feeding activity is evident in the video.
A day after their Facebook post, Just Africa Scuba explained on their website why the ocean was turning red.
Images provided by Just Africa Scuba comparing a typical sardine run in East London and a red tide in Florida, United States
Kegan Matthys, owner of Fishing Republic, a fishing store in Strand, agreed – he told AFP Fact Check that they have been "struggling" with red tide for a month, and he still sees traces of it.
"I actually fished this morning (April 29), and there is still a red tide in the water. The wind changed direction and pushed it all back into the bay towards us again, so there is still a red tide, definitely not sardines," said Matthys.
He added that the confusion may have come from the fact that people witnessed more sardines in the area than in previous years.
"That happened just before the tide came in properly. So the sardines were here thick before they died, and as soon as the red tide started it seems like the baitfish disappeared, not completely, but I think that's where most of the confusion has come in," said Matthys.
As reported by Africa News Agency, a red tide on the West Coast in January 2021 saw several marine species wash up dead onto the beach.
Then, on March 25, 2021, DEFF released a statement about the "fish and shellfish washouts and mortalities on the west coast of South Africa".
Another reference to the red tide was made in a congratulatory post to open water swimmer, Howard Warrington, who completed 22km on April 9, 2021, "in challenging conditions with Red Tide, big swells and choppy waters". 
Sardine spectacle
Every year as the weather cools in South Africa, vast shoals of sardines move northward along the country's east coast of South Africa. Known as the sardine run, this huge marine migration creates a feeding frenzy, making for spectacular images and providing a boost for local tourism operators.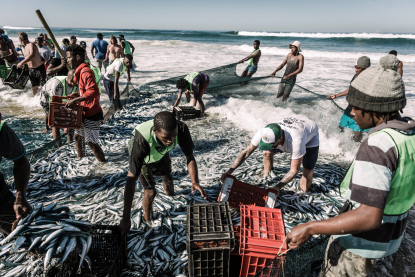 Every year as the weather cools in South Africa, vast shoals of sardines move northward along the country's east coast of South Africa (AFP / Rajesh Jantilal)
The first sardine shoal of 2021 was spotted in the Eastern Cape in mid-April 2021, and according to this article, local netters were hoping for a large bounty to match days gone by.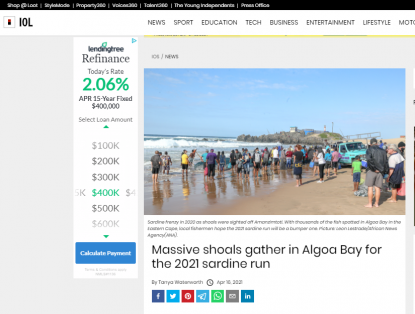 A screenshot of a headline from an article on IOL announcing the first shoals of the sardine season, taken on April 29, 2021