Still no evidence Rwanda's president ordered deportation of 18 Chinese nationals after claim resurfaces
Posts claiming that Rwandan President Paul Kagame ordered the deportation of 18 Chinese nationals for mistreating local workers have resurfaced online. AFP Fact Check debunked the same claim in 2020 and found no evidence backing up the allegations. To this day,  there is still no public record of such an order and representatives of both the Rwandan and Chinese governments have confirmed the incident never happened.
"You can't eat from Africa and you disrespect us...Africa is a people Continent that allows everybody to stay peacefully but won't accept any form of slavery again'," reads a Facebook post published on April 1, 2021, claiming to quote Kagame.
The post has since been shared more than 500 times.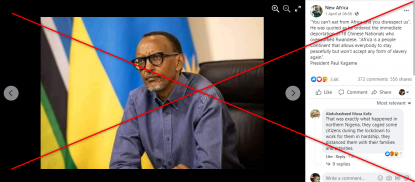 A screenshot of false Facebook post, taken on April 8, 2021
The claim was also shared in Facebook posts here and here.
The same claim circulated last year on a Facebook page called "CNN Zambia". AFP Fact Check found it to be an imposter account pretending to belong to US news channel CNN.
There are no news reports or any other traces of the alleged deportation of Chinese nationals from Rwanda as per orders issued by Kagame.
His spokeswoman Yolande Makolo dismissed the claims as "fake news".
"We would like to inform you that no such thing happened. It is fake news," she told AFP Fact Check in an email on April 8, 2021.
The Chinese embassy in Kigali also said it was not aware of any deportation of its nationals.
"The Chinese embassy in Rwanda hasn't heard about any of the deportation mentioned in the link. This piece of news is again fabricated, and full of misinformation. China and Rwanda are committed to deepen their bilateral cooperation, and bring more benefits to the Chinese and Rwandan people," it said in an email sent to AFP Fact Check on April 8, 2021.
Reports of Chinese nationals mistreating local workers in Africa are not new. In February 2020, Kenya's interior minister ordered the deportation of four Chinese nationals who were accused of assaulting a Kenyan restaurant worker. The scene, which was captured on video, caused outrage on social media.