There is no evidence that putting onions under feet cures cancer or malaria
A Facebook post shared in Nigeria claims that putting sliced onions under one's foot overnight can cure several deadly diseases, including cancer and malaria. This is false; there is no evidence that the vegetable is effective against these ailments. Medical experts have dismissed the claim.
The Facebook post was shared alongside a photo showing what appears to be a raw onion placed underneath a foot and held in place with a sock.
"Do this small Assignment and thank me later (sic)," reads part of the Facebook post's caption. Since publication on April 7, 2021, the post has been shared more than a hundred times.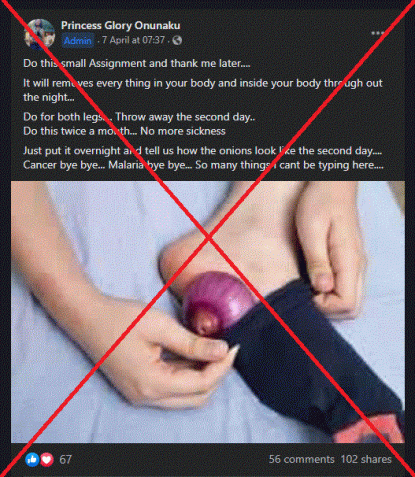 Screenshot of the Facebook post, taken on April 9, 2021
"It will removes every thing in your body and inside your body through out the night… Do for both legs.... Throw away the second day.. Do this twice a month... No more sickness (sic)," the caption continues. "[...] Cancer bye bye... Malaria bye bye..."
The viral claim is similar to an earlier version that circulated on Facebook in Yoruba, a language predominant in Nigeria's southwestern region.
"Ways to remove toxins from the body," the translated title of the earlier Facebook post reads. This post was published on a page called "Omobola Olohunwa Natural and Spiritual Healing," which promotes traditional medicine on Facebook in Nigeria.
The rest of the post, translated from Yoruba into English, explains that "toxins play a major role in how diseases such as cancer get into the body, particularly the kidney, heart, liver and uterus". 
Screenshot of the Facebook post, taken on April 9, 2021
"Get an edible onion, cut it into four parts, place it under the feet and wrap it up with socks to keep it in contact with the feet, leave it till the next morning, this onion would have sucked the toxins before dawn," the caption adds. 
The post suggests that onions are effective at "removing the toxins without necessarily visiting the hospital" and that this process should be done twice per month.
No scientific evidence to substantiate the claim
While the consumption of onions can be beneficial to human health, according to a 2002 study published in the peer-reviewed scientific journal Phytotherapy Research, there is no scientific evidence that onion foot therapy is an effective treatment for medical ailments.
"Putting onions under your feet at night cannot cure COVID-19, cancer, malaria or any other medical ailment," a World Health Organization spokesperson told AFP Fact Check. 
Aside from the global health authority, health professionals have also dismissed the claim as false and lacking medical basis.
"Although the skin is an organism of the body and has the ability to shed and clean itself, applying onions or any such food products will not alleviate systemic illness," Dr. James Fullwood, a podiatric surgeon at Northern Light Sebasticook Valley Hospital in the United States, told AFP Fact Check.
Fullwood explained that the theory that foot treatments can affect the liver and other organs is false. 
He added that people who indulge in such a foot therapy with the hopes of curing either cancer, malaria or other health issues "will end up with just awful smelling feet".
Dr. Ibisola Adekunle, a surgeon at the University College Hospital in Ibadan, Nigeria, said that the claim is not backed by medical research. This method of placing an onion underfoot "has no place or relevance in modern medicine," he told AFP Fact Check. 
Using onions to cure diseases frequently appears as misinformation, especially during recent health crises.
In 2019, AFP Fact Check debunked social media posts claiming that consuming onions helps to treat the Ebola Virus.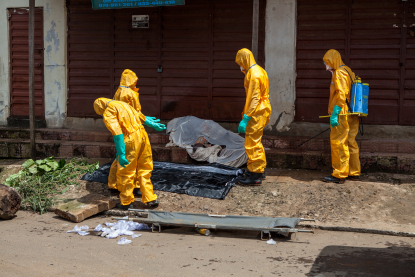 Volunteers pick up bodies of people who died of the Ebola virus on October 8, 2014 in Freetown (Photo by Floran PLAUCHEUR / AFP)
More recently, health professionals, including those at the World Health Organization, refuted a viral video claiming that a tonic made of onions, ginger, garlic, lemon and hot water could cure Covid-19.