Snapple caps do not mention 2020 election fraud claims
A photo of a Snapple bottle cap featuring one of the beverage company's signature "Real Facts" telling drinkers that former president Donald Trump lost the 2020 election circulated on social media in early May 2021. But the image was likely altered as Snapple said its products do not mention any such "fact."
"'Real Fact' 74,222,958. Trump lost and the election was not stolen," reads the text on the inside of an alleged Snapple bottle cap in a photo shared on Facebook, Twitter, and Instagram starting May 7, 2021. 
One iteration of the photo amassed more than 15,000 shares and 109,000 likes.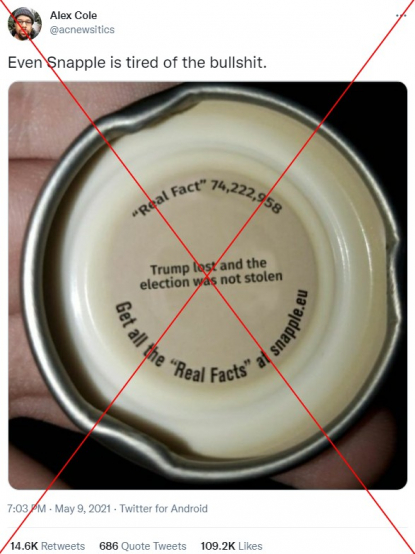 Screenshot of a tweet taken on May 12, 2021
The "fact" in the photo is a rebuttal to persistent false claims that former president Trump is the legitimate winner of the 2020 election, and that President Joe Biden stole the victory. Biden received 81,268,924 votes to Trump's 74,216,154 in the November ballot, and claims that the vote was plagued by fraud have been systematically debunked by AFP Fact Check.
The fact that the fake bottle cap shows the "Real Fact" #74,222,558 could be an illusion to the number of votes Trump received, although it does not match the exact result.
But Snapple said that the bottle cap pictured does not reflect a genuine "Real Fact."
"I can confirm this is not an official Snapple 'Real Fact,'" Katie Gilroy, a spokeswoman for Keurig Dr Pepper, which owns Snapple, told AFP.
The cap pictured also reads "Get all the 'Real Facts' at snapple.eu," which suggests the original photo showed a Snapple bottle sold in Europe, where the beverage is licensed by AG BARR, a distributor. 
A spokesperson for Snapple in Europe confirmed to AFP that there is no such fact printed on Snapple bottles there either.
The company's "Real Facts" can be found online here. This archived web page shows around 90 of them in a now offline web page from the company.
According to The Atlantic, Snapple began to print its fun facts in 2002. However, many of them have been shown to be false or misleading, such as fact #70, "Caller ID is illegal in California."