Scientists in Israel are still working on developing a vaccine for COVID-19
An image shared thousands of times on Facebook purports to be evidence that Israel has developed a vaccine for the novel coronavirus. The claim is misleading; the image used to illustrate a vial of the new drug is originally a stock picture while the MIGAL Research Institute in Israel, despite having a head start,  continues to work on a vaccine for COVID-19.
The claim appears in this Facebook post that has been shared more than 750 times since it was published on March 16, 2020. The caption says: "Ma Isreal ???? No more corona viruse death. (sic)"
The image comprises three different pictures. One is a vial labelled "Coronavirus Vaccine" and the other two feature scientists in a laboratory. The following text is superimposed: "NO MORE CORONA VIRUS DEATH: Finally they have discovered vaccine for Corona viruses. COVID-19."
A screenshot taken on March 20, 2020 of the misleading image taken from a Facebook post
Multiple versions of the post, like these here and here, have been shared more than a thousand times on Facebook. 
However, as debunked previously by AFP's fact-checkers in Sri Lanka, the image of the vial in the misleading Facebook posts is a stock photo from Shutterstock.
The caption on Shutterstock reads: "Coronavirus vaccine vial with injection syringe at the background."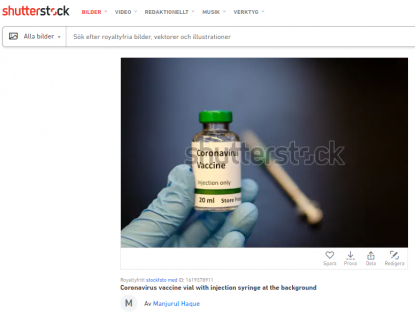 A screenshot taken on March 20, 2020 of Shutterstock image
Regarding the claim itself,  a press release issued by Israel's MIGAL institute on February 27, 2020, says it "has achieved a scientific breakthrough that will lead to the rapid creation of a vaccine against Coronavirus". 
"This possibility was identified as a by-product of MIGAL's development of a vaccine against IBV (Infectious Bronchitis Virus), a disease affecting poultry, whose effectiveness has been proven in pre-clinical trials," reads the statement.
The institute says it has made the required genetic adjustments needed to adapt the vaccine to COVID-19 and is working to achieve safety approvals that will enable in-vivo testing.
In a YouTube video posted on March 2, a lead researcher at the MIGAL Research Institute told CBN Israel that in a few weeks they would be able to start pre-clinical trials -- not that the vaccine had been discovered, as the misleading post claims.
"In a matter of days we are going to begin the production here, we are going to set up all the production process for the human version of the vaccine and we believe that in a matter of a few weeks, up to three months, we are going to have enough vaccines to begin to initiate the pre-clinical and clinical trials," said Itai Bloch, lead researcher in computational chemistry at MIGAL.
The World Health Organisation (WHO) says there is currently no vaccine and no specific antiviral medicine to prevent or treat COVID-19. 
"However, those affected should receive care to relieve symptoms. People with serious illness should be hospitalised. Most patients recover thanks to supportive care", is one piece of advice found on the WHO website.
As of March 20, the novel coronavirus has claimed more than 10,000 lives.
Pharmaceuticals and research labs across the world are racing to find vaccines and treatments for the new coronavirus, using a variety of different technologies, as reported by AFP.