Scenes of unrest were filmed in 2018, years before Uganda's recent presidential vote
Footage of Ugandan security forces firing shots and using tear gas to disperse protesters have been shared multiple times in social media posts across Africa claiming to capture the aftermath of the country's 2021 presidential poll. But this is false; the video comes from a 2018 television broadcast showing Ugandan police and opposition protesters clashing in the capital Kampala and several other cities in the country.
"Happening in Uganda after the proclamation of the Presidential election results adjudged to have been won by the incumbent Yoweri Museveni, who's going to his 40th year of rule," reads the Facebook post by Babafemi Ojudu, a special adviser on political matters to Nigerian President Muhammadu Buhari.
Screenshot taken on January 25, 2021, showing the misleading Facebook post
Shared more than 200 times, the post from January 17, 2021 includes a video showing a violent crackdown by armed security forces who appear to be firing live rounds. Civilians are also seen being beaten and detained amid burning debris in a downtown area.
The footage, broadcast as part of a news report and featuring the logo of Ugandan television station NTV Uganda in the top right-hand corner, resurfaced online shortly after the country's electoral commission declared incumbent Yoweri Museveni the winner of the 2021 presidential election, held on January 14.
His rival, Uganda's main opposition leader Bobi Wine, was placed under house arrest leading up to the elections and was routinely targeted by authorities. Wine rejected the outcome of the election, which gave Museveni 58.6 percent of the vote.
Ugandan soldiers patrol near the street leading to the house of Bobi Wine, in Magere, Uganda, on January 18, 2021 (Photo: Yasuyoshi CHIBA / AFP)
Ojudu's post linking the video to the recent polls was the earliest version of the claim to appear on Facebook, according to data provided by online monitoring tool CrowdTangle.
More than 7,000 people have since viewed the video, with some comments in the post raising the spectre of dictatorships in  Africa and other parts of the world.
The video has been shared alongside a similar claim elsewhere in  Africa, including Sierra Leone, Ghana, Congo and Liberia.   
Although the video clip is indeed genuine footage filmed in Uganda, it was first broadcast on television in 2018 following clashes between security forces and anti-government protesters in the east African nation.
Old video of unrest in Uganda
Using the InVID WeVerify tool, AFP Fact Check ran several reverse image searches on keyframes of the video. We found a portion of the footage published on Twitter on August 22, 2018.
"This is how @PoliceUg officers shoot people and then claim it was a stray bullet," reads the tweet. "From this video, It is clear that he wasn't shooting in the air, he was shooting at the people…"
This is how @PoliceUg officers shoot people and then claim it was a stray bullet. From this video, It is clear that he wasn't shooting in the air, he was shooting at the people...

Enough of the bloodshed..... Just #FreeBobiWine #FreeArua33 pic.twitter.com/WLuo7g6nJj

— Angarukiremu ?? (@JustGystin) August 22, 2018

AFP Fact Check further ran a search on YouTube using keywords like  "NTV Uganda August 22 2018". The results, combined with clues provided by the tweet and NTV Uganda's logo, revealed that the footage was originally published on the news organisation's YouTube channel. It has been viewed more than  279,000 times since it was published on August 20, 2018.
"UPDF and Police battle protestors across the country over Bobi Wine (sic)," reads the accompanying caption, adding: "It has been a day of running battles between protestors and the armed forces in Kampala and several towns in the country." UPDF refers to the Uganda People's Defence Force.
Wine, a career musician whose real name is Robert Kyagulanyi Ssentamu, became a thorn in Museveni's side during his political bid to unseat the Ugandan leader, who has held onto the country's seat of power for 35 years, an unbroken term of office set to be extended following this month's election.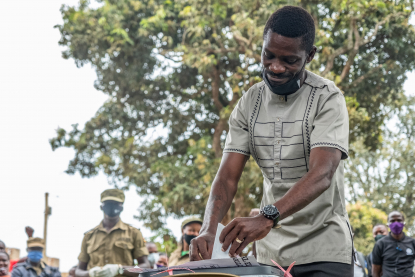 Musician-turned-politician Bobi Wine casts his ballot during the presidential and parliamentary poll in Magere, Uganda, on January 14, 2021 (Photo: Sumy SADURNI / AFP)
Violence marred the presidential campaign, leading to the deaths of at least 54 people, as AFP reported here. NTV Uganda also published a video on Facebook two days after Museveni was declared the victor showing police flogging a member of the public and firing tear gas.
AFP Fact Check recently debunked a photo shared in social media posts again claiming to show violent clashes between civilians and security forces days after Ugandans had voted.