Reopening date for South Africa's schools has not been announced
Multiple posts on social media claim that schools in South Africa will reopen months from now in September, as a result of the increase in COVID-19 cases. The claims are false; the Department of Basic Education has not made any such announcement and refuted the claims.
A Facebook post published on March 23, 2020, has been shared more than 1,400 times. 
It reads: "Schools will not be Opening on the 14th Of April Due to Rapid increase of COVID 19 The Department has Informed The schools That Schools Shall only be opening on 10th of September. IF Cases in South Africa Decrease Schools will Resume Again in 2021 And All Students of South Africa Shall repeat The grades They started this Year!.?? (sic)"
A screenshot taken on March 27, 2020 of the misleading Facebook post
Multiple versions of the claim have been shared more than 1,000 times here and here -- however, comments on some of the posts showed that not everyone believed the claim to be true.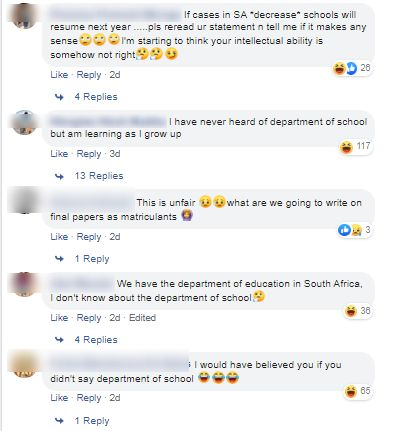 A screenshot taken on March 27, 2020 of comments on the misleading post
South Africa's Department of Basic Education has not yet announced when schools will reopen.
The claims that schools would stay shut until September were refuted by South Africa's Minister of Basic Education Angie Motshekga in a media briefing on March 26 ahead of a national lockdown aimed at combating the spread of COVID-19. She asked the public to "desist from spreading false information about when schools will reopen on any other matter". 
"On the reopening of schools, and I want to read this slowly because I find it really upsetting: we are aware that people continue to spread incorrect information and fake news causes a lot of damage to the work we are doing, especially under the current circumstances," she said.
Schools were initially to reopen on April 14, 2020, as announced earlier this month; however, this was before a national lockdown began on March 27, 2020. The 21-day lockdown is slated to end on April 16.
President #Ramaphosa: The nation-wide lockdown will be enacted in terms of the Disaster Management Act and will entail the following:

- From midnight on Thursday 26 March until midnight on Thursday 16 April, all South Africans will have to #stayathome.
#COVID19 #CoronaVirusSA

— Presidency | South Africa ?? (@PresidencyZA) March 23, 2020
"There is no truth to what has been circulated on social media about schools reopening in September so we request the public to ignore any other information which is not communicated officially by DBE and dismiss it with the contempt it deserves," Motshekga said. 
The start of the second term would be announced at a later date, depending on the success of the national lockdown.
"The exact date for the reopening of schools, for the start of the second term, will be communicated officially later, and it is going to be dependent on how as South Africans, we carry ourselves during this lockdown. That is what is going to determine whether the curve flattens or it doesn't flatten," she said.
"When our children go back to school is all in our hands… We are going to be guided by the department of health, to say indeed we can really lift the lockdown."
On March 27, South Africa reported its first two deaths from COVID-19 and counted more than 1,000 confirmed cases, as announced by the country's health minister Zweli Mkhize.
It is with deep sadness that we announce two loss of lives to #coronavirus . We will update with more details pic.twitter.com/WXUORwjjHL

— Dr Zweli Mkhize (@DrZweliMkhize) March 27, 2020