Image shows Brazil's president crying, not Italy's prime minister
A photo has been shared thousands of times in multiple Facebook posts alongside the claim that it shows Italy's prime minister crying over the toll of the novel coronavirus epidemic. The claim is false; the photo shows Brazilian President Jair Bolsonaro getting emotional during a Thanksgiving speech. 
"Italian prime minister cry as he tell the press, we are overwhelmed with the coronavirus," reads text accompanying a photo that has been shared more than 6,100 times since it was posted here on Facebook on March 22, 2020.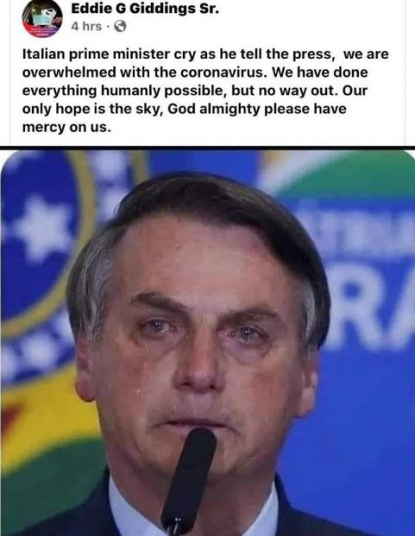 Screenshot of a Facebook post taken on March 26, 2020
The photo was shared on Facebook here, here and here, as well as on websites here and here. The claim also circulated in Spanish.
Italy has been hard hit by the novel coronavirus, with more than 8,000 deaths. The virus first emerged in China late last year before spreading globally, with three billion people around the world told to stay indoors, according to this AFP report.
However, the image said to show Italy's premier is miscaptioned.
The photo shows Brazil's president Jair Bolsonaro shedding a tear during a Thanksgiving speech in December 2019.
A reverse image search on Google found the image in the false posts was from this December 2019 report by Brasilia-based news site Poder360 with credit to Sergio Lima, one of the site's photojournalists. 
Below is a screenshot comparison of the photo in the misleading posts (L) and the photo published by Poder360 (R):
The report says that Bolsonaro became emotional at a Thanksgiving service at the Planalto Palace, the president's office, when he recalled being stabbed in the city of Juiz de Fora during the 2018 election campaign. 
The moment was captured in this YouTube video posted by Planalto on December 17, 2019, alongside a corresponding caption. 
The caption translates to English as: "President Jair Bolsonaro was thrilled to speak this Tuesday (17th) during the Thanksgiving Worship at the Planalto Palace. Bolsonaro recalled the moments when he was in the hospital, after being stabbed in Juiz de Fora, and that he asked God not to leave his daughter an orphan." 
While some may find the men similar looking, it is clear from these AFP photos that Bolsonaro (L) has blue eyes while Italian Prime Minister Giuseppe Conte has brown eyes:
A combination of photos of Brazilian President Jair Bolsonaro and Italian Prime Minister Giuseppe Conte (AFP / Evaristo Sa / Tizana Fabi)
AFP Fact Check also debunked a similar post in which the image of Bolsonaro was falsely said to be Italian President Sergio Mattarella. A full round up of our work on novel coronavirus claims can be found here.