Photo shows hospitalised Kenyan MP after 2014 parliament fracas, not after recent funeral brawl
Facebook posts claiming to picture a Kenyan MP in hospital after being beaten up at a funeral in February 2021 have been shared multiple times. The claim is false: while the image does show lawmaker Simba Arati in hospital, the picture was taken in 2014 after he was injured during a chaotic parliamentary session.
"Quick recovery Simba Arati! Next time don't joke around with the hustler nation movement!!!" reads the Facebook post published on February 01, 2021.
"Hustler nation" is a slogan used by Kenya's Deputy President William Ruto and his allies during political campaigns to rally poorer people.
A screenshot of the false Facebook post, taken on March 4, 2021
According to the claim, Arati was assaulted in Kisii county on February 1, 2021, during a tense funeral service for a governor's father, an event that was highly politicised after arch-rivals Ruto and opposition leader Raila Odinga, and their supporters, attended.
The same claim was shared here on Facebook.
Although Arati was involved in a physical altercation at the funeral, the image of him Arati in a hospital bed was taken seven years ago and is unrelated to the burial incident.
'Misleading' claim
A reverse image search on TinEye revealed that the picture was used in a December 2014 online story by local newspaper The Standard. The article reported that Arati sustained injuries when a scuffle broke out in parliament over a controversial security law amendment.
While the image is no longer available on the page, the caption still shows: "Dagoretti north mp Simba Arati recuperating at Nairobi hospital yesterday 20-12-14 after he is alleged to have been bitten by fellow MP in parliament on Thursday. He developed tetanus (sic)".
AFP Fact Check contacted Tabitha Otwori, the photojournalist credited in the caption, who confirmed the image showed Arati in hospital seven years ago. "The claim with the photo circulating on social media is actually misleading," she said. "I shot it on December 19, 2014, about six years ago for the Standard Group and it was published on December 20, 2014."
A further keyword search led to this video report from 2014 by Kenyan broadcaster KTN. The clip shows Arati in a hospital bed identical to the one in the picture being shared in the misleading Facebook post.
A screengrab of Simba Arati in hospital, taken on March 8, 2021
Details from the broadcast describe how Arati was admitted to a Nairobi hospital after his finger was bitten by a colleague during a violent parliamentary session.
The chaos in Kenya's parliament on December 18, 2014, broke out when an amendment to a piece of security legislation was voted into law, sparking violent scenes in the house. Arati was and currently is a member of the opposition Orange Democratic Party, which voted against the bill.
Funeral fight
Arati was involved in a fight at a funeral on February 1, 2021, as reported here and here.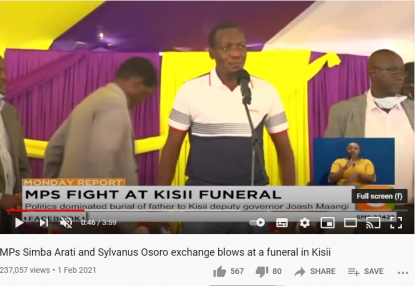 A screenshot of a video report showing Simba Arati during the burial that turned chaotic, taken on March 8, 2021
In the clip, Arati  is seen on a podium delivering a speech that seemed to be upsetting fellow MP Sylvanus Osoro who rushes to the front and tried to throw punches, prompting others to intervene.
There is no official evidence that Arati was hospitalised after the fight. AFP Fact Check has asked him for comment and will update this fact-check in case of a reply.