These images show women protesters who were detained and then released in 2018
Posts with four images are circulating on social media in Nigeria claiming to show a large group of Biafran women being detained in the country's north. This is false; the photos were all taken in 2018 and linked to a protest by women from the Indigenous People of Biafra (IPOB) group in the country's southeast city of Owerri. The protesters were arrested but released unconditionally days later. There is no evidence that a separate group of 109 Biafran women is currently jailed in Suleja for demanding a referendum on independence, as claimed. 
 "They don't have Bandits in detention but 109 BIAFRA woman are in detention in Suleja just because they are holding flag asking for REFERENDUM to determined their faith against NIGERIA (sic)", reads the caption from one of the posts on Facebook.
Screenshot showing the false Facebook post, taken on March 8, 2021.
This post was published on February 26, 2021, and has since been shared more than 360 times.
The photos have also been shared alongside the same claim here on Facebook, as well as on Twitter. 
Suleja is located in Nigeria's northern Niger state, about 50 kilometres from the country's capital Abuja. The town of Suleja was originally called "Abuja" until 1976 when the west African country adopted the name for its capital city.
The caption on the Facebook post also includes a quote attributed to IPOB leader Nnamdi Kanu in which he allegedly accuses Nigerian security forces of abducting and raping Biafran women.
"How Many Fulani women are in detention cells in the East? None. But go to Abuja, you will see many BIAFRAN women abducted and locked up in Military camps and Police cells and being raped everyday by Fulanii soldiers and their Police (sic)," it reads.
The Biafra separatist group has been pushing for an independent state in southeastern Nigeria since 1970. Fulani is an ethnic group in northern Nigeria known for herding cattle across the country and the two are at violent loggerheads. 
Pro-Biafra supporters march through the streets of Aba, southeastern Nigeria, to call for the release of Nnamdi Kanu on November 18, 2015 (Photo by Pius Utomi EKPEI / AFP)
The herders are frequently accused of being responsible for murders and kidnappings in Nigeria's south where their cattle graze during the dry season, leading to reported clashes with an armed militia aligned to IPOB.
However, the images used in the Facebook posts have been circulating online since at least 2018 and do not show women recently detained or currently behind bars. The women who were photographed protesting have since been released, according to Nigerian daily newspaper The Punch.
Images of Biafran women protesters from 2018
By conducting a reverse image search, AFP Fact Check located the photo of the protesting women dressed in black in a tweet from August 17, 2018.
"Alert! Mass arrest, shooting and abduction of IPOB women ongoing now in Owerri. Nigeria security forces taking them to an unknown destination," the tweet reads.
Alert!
Mass arrest, shooting and abduction of IPOB women ongoing now in Owerri .
Nigeria security forces taking them to an unknown destination.@UNHumanRights @NkirukaNistoran @realDonaldTrump @UN_PGA pic.twitter.com/IPsgPeWSsb

— Godswill leles (@Lelescog) August 17, 2018

AFP Fact Check traced two other images to tweets published here and here in August 2018. These also refer to the mass arrests and detention of Biafran women protesting in Owerri, the capital of Imo state in southeastern Nigeria. 
This is how 48 IPOB women who committed no crime other than exercising their right of peaceful protest are being treated by @PoliceNG at Owerri. What a shame. Harmless women parked like sardine inside disgusting cell. pic.twitter.com/90LxrvLrO8

— Agala Uchenna (@UchebobAgala) August 18, 2018

The region has long been a hotbed for separatist groups, and tensions are high between the federal security forces and the indigenous Igbo population. 
A third reverse image search led us to an August 23, 2018 publication on the website of Nigerian daily newspaper The Sun. The article features an image of some women behind a wire fence.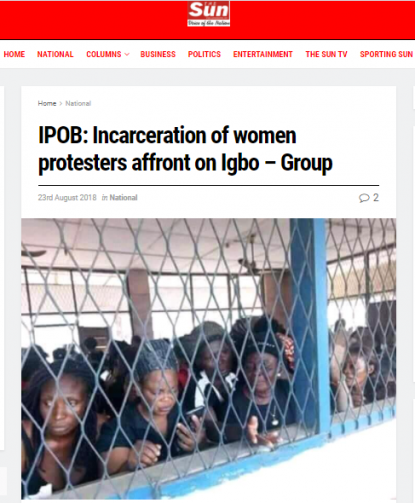 Screenshot taken on March 9, 2021, of a web article showing a group of detained IPOB protesters from 2018
There is no evidence or credible media reports about 109 Biafran women currently in detention in Sulaja, Abuja, or any other part of the country, while the women in the various images used on Facebook to make the claim were released from prison without charge three years ago. 
AFP Fact Check has contacted authorities for comment but has not yet received a response.