No, these images show an illegal soft drink operation raided by authorities in Pakistan
Viral images purporting to show the recent discovery of an illegal Coca-Cola manufacturing plant in Zambia are doing the rounds on social media again. The claim is false; the pictures actually show a 2015 raid on a makeshift soft drink plant in Pakistan.
The various images in this archived Facebook post here show the inside of a ramshackle building, which appears to house an illegal bottling operation of soft drink brands. 
The claim, in full, reads: "Fake coke manufactured in Matero makes its way into Zambian market. The product has been under manufacturing in Matero for the past 1 year 8 months. This is according to a suspect who was apprehended by a mob in Garden area where he was mistaken for a gasser (sic)."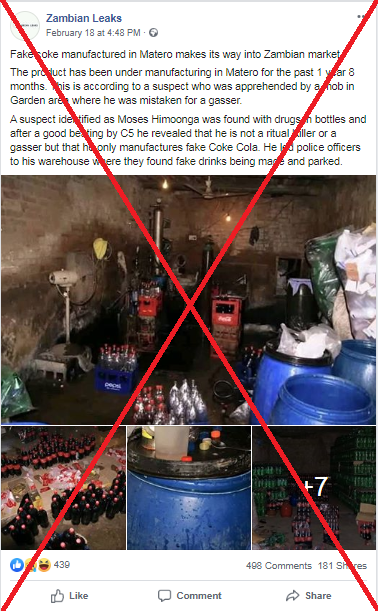 A screenshot taken on February 26, 2020 of the misleading Facebook post
Large barrels, makeshift manufacturing tools and ingredients are also pictured with what looks like packaged stock ready for shipping.
Other similar claims locating the site in Zambia were posted here and here.
A screenshot taken on February 26, 2020 of Facebook results after a search of keywords
However, reverse image searches of the pictures show their widespread use in several pages of articles, some going back as much as five years. 
Screenshots taken on February 25, 2020 of reverse image search results on Google and TinEye
According to our searches, one of the earliest online sightings of the images appeared on a chat forum here on September 17, 2015.
It describes a raid in a Pakistani village called Gujranwala where hazardous chemicals, food colouring, and flavourings were used to make black market soft drinks. Four people were reportedly arrested.
A screenshot taken on February 27, 2020 of the raid event on chat forum Pak101
Multiple pictures were published and a basic internet search of the terms "food authority Gujranwala fake coke" returned a similar article by Mangobaaz. The Pakistani social news website credits the images to City District Government Gujranwala. 
This led to a Facebook page of the same name with a more detailed version of the raid in this September 16, 2015, post.
One of the pictures shows two uniformed policemen wearing branded golf shirts. In the same photo, one of the officers is wearing a cap with the Pakistani flag on the side.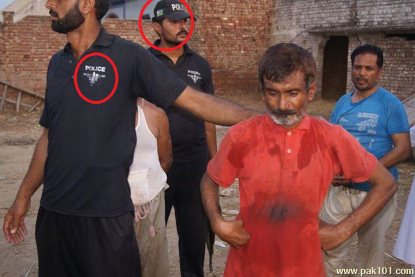 An image saved on February 26, 2020 from Pak101, edited to show the branded golf shirts and Pakistan flag
The Zambian posts try to link the claim to reported "gas" attacks in the country and corresponding incidents of vigilante violence -- read a detailed report on these issues by AFP Fact Check here.
The same images have been used in other false contexts, for instance to discourage South Africans from buying soft drinks from "Indian and Somali shops", as described in this debunk by verification website Africa Check
Other claims about counterfeit soft drinks in Nigeria and Kenya have also relied on the images.