No, Facebook does not donate $1 to charity each time this meme is shared
A meme-style image circulating on Facebook shows two people begging, alongside a claim that the social media giant donates $1 every time it is shared. Facebook confirmed the claim is untrue. Similar memes, making the same false claim about Facebook but with different photos, have been circulating for years. 
The meme, which was posted on May 21 and which we've archived here, uses a sympathetic image to appeal to social media users: "I M NOT ASKING YOU LIKE THIS BUT PLEASE DO SHARE BECAUSE FACEBOOK DONATES 1$ FOR THESE SICK CHILDREN FOR EVERY SINGLE SHARE".
A misleading meme saved on May 28, 2019 from a Facebook post
A reverse image search on TinEye reveals more than 50 results for the image, dating back as far back as 2013. 
A screenshot taken on May 27, 2019 of the search results on TinEye
The results include a photo on Getty Images by Jonas Gratzer dated August 25, 2010 in Mandalay, Myanmar. The image is captioned: "A woman and her son beg in the mud at the festival outside Mandalay".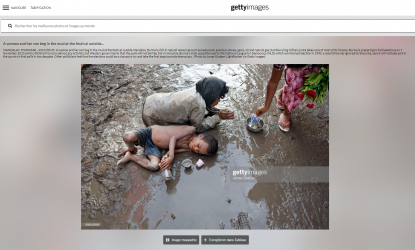 A screenshot taken on May 27, 2019 of the original photo by Jonas Gratzer on Getty Images
A Facebook spokesperson told AFP there was no truth to the claim that the social network donates to charity each time the post is shared.
"Facebook is not donating per share. Please note that such news is incorrect," the spokesperson said.
A similar meme can be seen in this archived Facebook post from May 12, 2013 using the image of a malnutritioned baby.
A screenshot taken on May 27, 2019 of a misleading Facebook post
In this case, a reverse image search leads to a photograph taken in 2011 by Associated Press photographer Schalk van Zuydam during a famine in Kenya. According to the caption, the seven-month-old baby, named as Minhaj Gedi Farah, was receiving treatment in a field hospital of the International Rescue Committee in the town of Dadaab. The child weighed just 3.4 kilograms (7.5 pounds).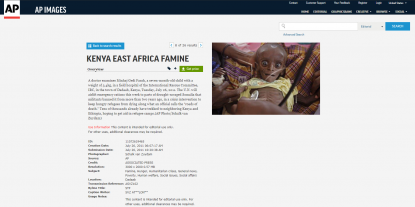 A screenshot taken on May 27, 2019 of the original photo by Schalk van Zuydam on Associated Press Images
A third version of the meme, which we've archived here, has been shared more than 31,000 times since 2013. The image attached is often used to depict the effects of the Biafra War on children between 1967 and 1970 -- as seen in articles here and here.
A screenshot taken on May 28, 2019 of the misleading Facebook post
Facebook founder Mark Zuckerberg and his wife announced in 2015 that they planned to give 99 percent of their shares in the company to charity over the course of their lifetimes. The website is used by many charities to raise money for their causes, information on which can be found here.