Nigeria did not give US President Donald Trump a deadline to concede the election or face sanctions
Multiple posts making the rounds on Facebook claim the Nigerian government gave US President Donald Trump 72 hours to concede the 2020 presidential election to former vice-president Joe Biden. This is false; Nigeria rejected the statement attributed to one of its ministers and AFP Fact Check found no public record of the government issuing such an ultimatum.
One post shared more than 500 times and archived here claims that Nigeria's Information Minister Lai Mohammed "has vowed that America would be sanctioned if after 72 hours, Donald Trump fails to concede defeat".
It alleged that Mohammed said Nigeria backed Biden's victory and "would do everything to make sure he takes office". 
"I have said it time without number that Donald Trump is a mad man who is always looking for troubles (sic)," the post quotes the minister as purportedly saying.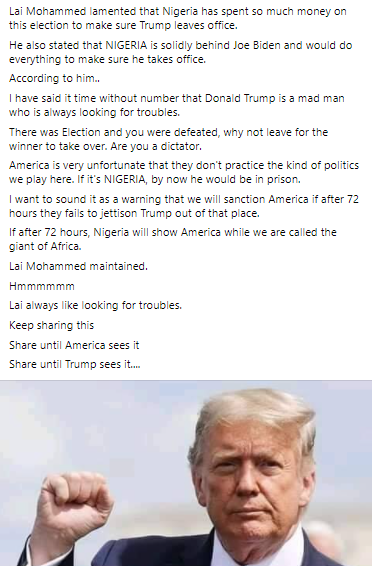 A screenshot taken on November 20, 2020, showing the false post
Nigeria did not tell Trump to concede
Information ministry spokesman Segun Adeyemi told AFP Fact Check that Mohammed made no such claims. 
"For the record, the minister never said any of those things that were attributed to him," he said, adding that "these claims are made daily, and the world knows they are concocted by unscrupulous elements".
AFP Fact Check has found no public record or media reports to support the claim.
Before the US election on November 3, 2020, there were claims on Facebook that Nigeria was donating $600 million to the Biden campaign. The posts falsely quoted the same minister of information in Nigeria. But AFP Fact Check debunked the claim – no foreign government can donate to a political campaign in the US. 
Although Trump has so far refused to accept defeat, Biden is expected to take office on January 20, 2021. Many heads of states including Nigerian President Muhammadu Buhari have already congratulated Biden.