Misleading claims about pharmaceutical company's Covid vaccine circulate in South Africa
Numerous posts on social media claim that an Indian company has sold South Africa "a less effective" Covid-19 vaccine nearing expiry and which the Swiss have since banned. The claims are misleading; the vaccines developed by AstraZeneca had already been ordered by South Africa's government before a recent study by a local university questioned their efficacy against a new coronavirus variant, while Switzerland has only suspended approval of the drug pending the outcome of more research.
A Facebook post from February 8, 2021, and shared more than 170 times in South Africa, begins by taking a dig at China and India who "undermine Africans" with  "poor quality, fake or expired goods".
"Today here we are again," continues the post. "An Indian Company sold to the South African Government a less effective Covid19 Vaccine that is near the expiry date. 120 MILLION of Government funds lost just like that."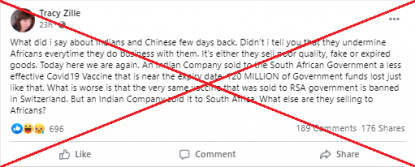 A screenshot of the misleading Facebook post taken on February 9, 2021
The vaccine in question was developed in partnership by AstraZeneca and Oxford University. South Africa received the country's first shipment of the vaccine at the start of February — a total of one million doses just as President Cyril Ramaphosa said the second wave of Covid-19 had "passed the peak".
The country has recorded almost 1.5 million detected infections and more than 47,000 fatalities since the pandemic began – the highest number of cases and deaths in Africa.
#COVID19 Statistics in SA as at 10 February .

Use the COVID Alert SA app to protect yourself, your loved ones and your community. Start using this privacy preserving app today. Add your phone to the fight! Download the Covid Alert SA app now! https://t.co/8YKEqaiiRF pic.twitter.com/vcBhNjVPXO

— Dr Zweli Mkhize (@DrZweliMkhize) February 10, 2021
The vaccine sent to South Africa is licensed for production by AstraZeneca to a number of pharmaceutical companies around the world, including the Serum Institute of India (SII), the world's biggest vaccine maker by volume. The SII supplied South Africa with its first consignment. 
"What is worse is that the very same vaccine that was sold to RSA government is banned in Switzerland," the post claims further.
However, while Switzerland has suspended approval for its use pending more trial data, it has not banned the vaccine. 
- AstraZeneca vaccine efficacy -
The second wave of the virus in South Africa was spurred by a new, more contagious variant of the virus.
Known as 510Y.V2, its discovery convinced local authorities to introduce new restrictions in December 2020 to slow its spread as the country waited for its first supply of vaccines.
Then, as reported by AFP, alarm was raised on February 7, 2021, in South Africa when a trial of 2,000 participants at Johannesburg's University of Witwatersrand concluded that the AstraZeneca vaccine provided only "minimal" protection against mild to moderate Covid-19 caused by the variant first detected in South Africa.
A temporary suspension of the nation's vaccination programme followed the announcement of the trial results, which have not yet undergone peer review.
To claim, however, that the AstraZeneca vaccine is "less effective" in general is misleading because, as health experts have explained, it remains viable against other variants of the virus (see here and here).
Researchers at AstraZeneca are nevertheless working on an updated vaccine tailored to the South African variant and, said the government's top Covid-19 adviser Professor Salim Abdool Karim, these new-generation therapies will have a much broader target range.
"Covid vaccines remain effective against existing variants. The next set of vaccines will be made from the 501Y.V2 variant and so they are likely to be effective against the 501Y.V2 variant. We are expecting two kinds of vaccines: the first are 501Y.V2 boosters and we have already heard about the good progress they are making on these boosters," he said in a health department statement.
"You will take the existing vaccine to give you immunity against the existing variants and then take this booster which will boost it in order to give you protection from the 501Y.V2 variant. A next generation of vaccinations is intended to be much broader and will cover you from the current and future variants. That will take a little longer to develop."
Karim has recommended the country continue using the AstraZeneca shots, but in a staggered way, starting with a smaller population group and monitoring them closely.
South Africa received the first one million doses of the Oxford-AstraZeneca vaccine at the start of February 2021 (AFP / Punit Paranjpe)
- Vaccines close to expiry date - 
Part of the misleading post claims the batch of vaccines delivered to South Africa is close to expiry, which Karim explained is more accurately referred to as a re-test date.
"Because the vaccines have only been made recently, their stability has only been tested over a short period and so that's why they come with a short date for expiration," Karim told AFP in a February 8, 2021, article.
"In fact, that is not an expiration date; in reality, it's a re-test date. In other words, you need to reassess whether the vaccine is stable for that period and then you extend that deadline."
Karim said this is standard of all vaccines and that the expiry dates would be extended as new data on the medication's stability becomes available.
"In order for the expiration date to be one year, the vaccine must be tested for one year and, of course, vaccines haven't been around for a year, they have only been around for a few months," Karim added.
A vaccine guideline by the WHO echoes this evaluation process: "The stability of a vaccine, and therefore the proposed shelf-life, expiry date and storage conditions should be determined on the basis of the results of real-time stability studies."
- Switzerland delays AstraZeneca rollout -
The claim that Switzerland has banned the use of the AstraZeneca vaccine is also misleading.
On February 3, 2021, Swiss regulators said that data submitted by AstraZeneca were not yet sufficient for it to authorise the use of the company's Covid-19 vaccine, and that "new studies" were needed.
"To obtain more information about safety, efficacy and quality, additional data from new studies are needed," it said in a statement. Depending on data expected from Phase 3 trials underway in North and South America, "a temporary authorisation according to the rolling procedure could be issued at very short notice," the country's regulator Swissmedic said.
Switzerland has so far given the green light to Covid-19 vaccines made by Pfizer/BioNTech and Moderna.
A spokesperson for AstraZeneca told AFP that the company's jab had already been granted authorisation for emergency use "in close to 50 countries, spanning four continents, including most recently in the European Union".
"We are confident that our vaccine is effective, well-tolerated, and can have a real impact on the pandemic."
AFP Fact Check has previously debunked false claims about the AstraZeneca vaccine in South Africa.