Lowe's is not offering a $150 coupon on Facebook
Hundreds of Facebook users in North America have shared links to an offer which claims home improvement retailer Lowe's is giving away a coupon worth $150. This offer is "not a valid coupon," the company told AFP in a statement. 
The posts say: "Lowe's has announced that everyone who shares this link will be sent a $150 coupon for its anniversary." The posts link to a website which we archived here. It is not affiliated with Lowe's.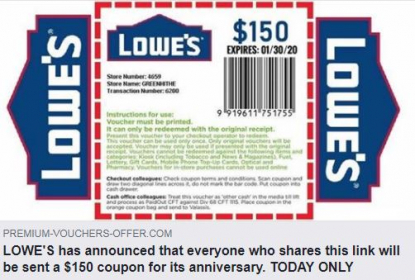 Screenshot taken on January 7, 2020 of a Facebook post
When one clicks on the link, it opens a webpage which asks a series of questions and eventually requires the user to share the link on Facebook with "Thank you!" written in the comments field. It also asks to collect personal information.
Screenshot taken on January 7, 2020 of a scam website offering a Lowe's coupon
However this offer is fake and is not affiliated in any way with Lowe's. "This is not a valid coupon issued by Lowe's," the company said in an email statement to AFP. 
"As a rule of thumb, all official contests or offers will only be promoted on our verified accounts," the statement explained.
To find authentic offers from Lowe's, the company suggests that shoppers visit their official websites for the US or Canada.
AFP Fact Check has debunked other "free offers" on Facebook, including non-existent coupons from global retail giant Walmart, Molson Coors in Canada and the Australian supermarket Woolworths.