Image shows supporters in Nairobi welcoming back Kenya opposition leader in 2017
An image published dozens of times on Facebook in Kenya has been shared with a claim that it shows President Uhuru Kenyatta and a crowd of supporters in Kisumu city on May 31, 2021, during an official tour of the region. However, the claim is false: the image shows opposition leader Raila Odinga's supporters welcoming him back to the country in 2017 after he visited the United States.
The photo was published here on Facebook on May 31, 2021, and has since been shared nearly 100 times.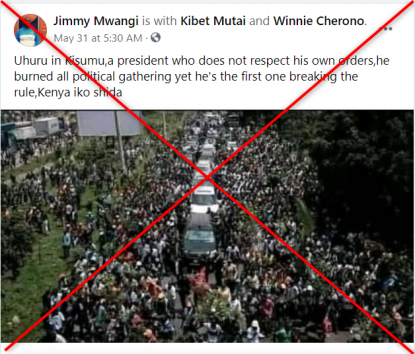 Screenshot of the Facebook post, taken on June 10, 2021
"Uhuru in Kisumu,a president who does not respect his own orders,he burned all political gathering yet he's the first one breaking the rule... (sic)," the caption accompanying the photo reads.
The image shows a large crowd surrounding a motorcade. 
The post accuses the Kenyan president of disregarding his administration's own Covid-19 protocols which prohibit large gatherings. It was published on the eve of Madaraka day, a public holiday in Kenya which commemorates the country attaining self-rule in 1963 after being a British colony for over 40 years. At the time, Kenyatta and other dignitaries were in the lakeside city, preparing for the annual June 1 celebrations.
But the claim that the photo shows Kenyatta's motorcade in Kisumu city over this period is false.
Old photo from 2017
By performing a reverse image search, AFP Fact Check found the photo in the online archives of Getty Images. It was taken by AFP photographer Yasuyoshi Chiba and shows opposition leader Odinga's supporters welcoming him back to Kenya at Nairobi's Jomo Kenyatta International Airport in November 2017, after a trip to the United States.
Supporters of Kenyan's opposition party National Super Alliance (NASA) leader Raila Odinga march with his convoy upon his arrival from the Jomo Kenyatta international airport on November 17, 2017 in Nairobi. (Photo by Yasuyoshi CHIBA / AFP)
Both the New York Times and BBC used the picture in articles published on November 17, 2017.
Before travelling to the US, Odinga - who was the National Super Alliance (NASA) presidential candidate - had asked his supporters to boycott the 2017 repeat elections. The presidential election results had been nullified by Kenya's Supreme Court, citing malpractices during the vote tallying and transmission processes. 
AFP reported that Odinga told his supporters to protest the outcome of the repeat polls, which he had boycotted. Kenyatta was declared winner with 98 percent of the vote in an election that was marred by a low turnout; only 39 percent of registered voters participated.