Photos show a Syrian helicopter shot out of the sky in 2020, not the downing of an Ethiopian chopper
A Facebook post shared hundreds of times purports to show the moment an Ethiopian military helicopter was shot down by Tigrayan rebels on November 11, 2021. This is false; the first three photos of the hit chopper were taken in Syria, while the final image of a rocket has been on the internet since at least September 15, 2021.
The post, published on November 11, 2021, includes three grainy photographs of a burning helicopter as it falls out of the sky and a fourth picture showing a rocket on the back of an open truck.
Written in Afaan Oromoo, part of the post's caption translates to: "Ethiopian Helicopter was destroyed by TDF (Tigray Defense Forces) earlier today in Afar region. We have received the images of the helicopter shot by a missile and crashed."
A screenshot of the false Facebook post, taken on November 15, 2021
Conflict in Ethiopia
War broke out in November 2020 when Prime Minister Abiy Ahmed –winner of the 2019 Nobel Peace Prize – sent troops into Tigray to topple the Tigray People's Liberation Front (TPLF) group, a move he said came in response to rebel attacks on army camps.
However, by June 2021 the TPLF had retaken most of Tigray before expanding into Amhara and Afar.
As reported by AFP, the African Union's special envoy for Ethiopia, Olusegun Obasanjo, remains hopeful that dialogue can end Ethiopia's year-long war, but he warned in a statement released on November 14, 2021, that "such talks cannot deliver" without an immediate ceasefire.
AFP graphic showing the forces involved in the Tigray conflict in Ethiopia
Ethiopia laid out conditions for possible talks with the rebels on November 11, 2021, including a halt to attacks, a TPLF withdrawal from the neighbouring regions of Amhara and Afar, and recognition of the government's legitimacy.
The TPLF, in turn, is demanding that aid be let into Tigray as no assistance has arrived by road since October 18, 2021, and 364 trucks are stuck in Afar awaiting authorisation, according to the United Nations.
On the day of the false post, TPLF spokesman Getachew Reda tweeted that their forces shot down an Ethiopian helicopter.
Much of the conflict-affected zone is under a communications blackout and access for journalists is restricted, making it difficult for AFP to independently confirm the tweet.
The helicopter images used in the false post are, however, unrelated to Ethiopia.
Helicopter in Syria
AFP Fact Check has previously analysed similar screenshots of the crashing helicopter in debunks here, here and here.
The images correspond to a longer YouTube video published by The Telegraph on February 11, 2020, describing an incident in Syria, and not in Ethiopia as claimed.
"Videos circulating on social media...appeared to show a Syrian air force helicopter being downed by rebels in the area of Nayrab in eastern Idlib, using ground-to-air missiles thought to have been supplied by Turkey in recent days," reads the video caption.
As reported by AFP at the time, two Syrian military helicopters were shot down over the country in a week of high tensions with Turkey.
Finally, a reverse image search of what looks like a rocket in the last picture led to another YouTube video, published on September 15, 2021, showing several passing trucks carrying large missiles.
The video caption suggests it shows Tigray defence force missiles on Mekelle Road.
The video could be from Ethiopia, based on the blue taxis and motor tricycles in the background, but the video was posted on YouTube two months ago, so the footage cannot from November 11, 2021.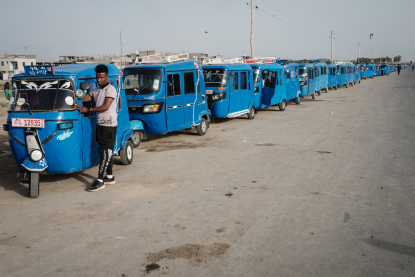 Blue tricycles similar to those in the video are seen here in Tigray's capital Mekelle on June 20, 2021 ( AFP / YASUYOSHI CHIBA)