South African party mispresents health data to draw false conclusions about safety of Covid-19 vaccines
A South African political party claims in widely shared Facebook posts that Covid-19 jabs are unsafe, based on reported side effects experienced by vaccinated people. But AFP Fact Check found the basic research used as evidence in the claim comes from a database that clearly explains how reported reactions to various drugs do not necessarily equate to actual side effects. Vaccines have scientifically been proven to be safe and outweigh any potential risks. The political party also promotes ivermectin as a Covid-19 drug but regulators say there is inadequate proof to show it is a viable treatment for the disease.
The Facebook post was published on September 7, 2021, by South Africa's African Christian Democratic Party (ACDP).
It claims to provide proof that "ivermectin is safe" and "Covid vaccines are NOT".
Included in the post is a table of figures comparing the number of reported deaths and side effects from various medicines and vaccines over the years, including those for Covid-19, which are highlighted in red and visibly higher than the rest.
Below the table are the logos for the World Health Organization (WHO), the U.S. Food and Drug Administration (FDA) and pharmaceutical company Merck. The name VigiAccess appears above the table.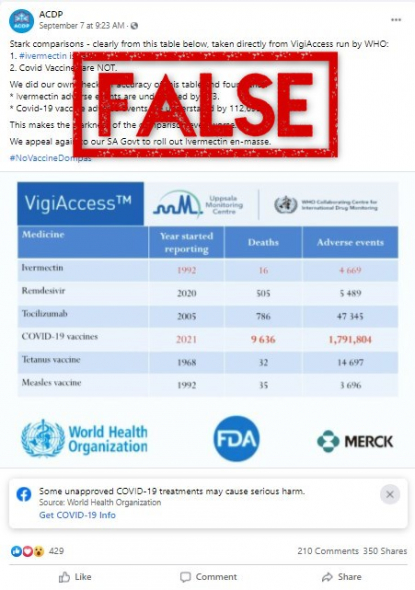 A screenshot of the false Facebook post, taken on September 15, 2021
The post also claims that the numbers for Covid-19 have been understated.
"This makes the starkness of the comparison even worse. We appeal again to our SA Govt to roll out Ivermectin en-masse (sic)," it reads.
The same image with a similar claim was published here on Facebook by ACDP leader Kenneth Meshoe. His post has been shared more than 350 times.
However, AFP Fact Check found the table to be an unofficial compilation of VigiAccess information, which misrepresents the official data.
Limitations of data
The WHO launched VigiAccess in 2015 to give the general public access to VigiBase, where records of reported potential side effects from the use of various medicines are kept.
"VigiAccess is supposed to be used as a 'starting point' for people who want to understand more about the types of potential side effects that have been reported in association with the use of medicinal products," reads an explanation on the VigiAccess home page.
It also warns the public against inferring "any confirmed link between a suspected side effect and any specific medicine".
Users are asked to indicate that they understand the limitations of the data before proceeding.
A screenshot of the disclaimer on the VigiAccess database, taken on September 16, 2021
The Uppsala Monitoring Centre (UMC) manages the VigiAccess website. VigiBase database spokeswoman Alexandra Hoegberg told AFP Fact Check that the tabulated data on adverse drug reactions (ADRs) was not generated by their system.
To format it into a table, each pharmaceutical product would need to be searched individually and then manually collated, she said.
In any case, Hoegberg stressed that the figures do not mean that vaccines are harmful.
"These figures DO NOT suggest that the Covid-19 vaccines are unsafe, nor does the comparison of different pharmaceuticals provide any information about their relative safety compared to one another," Hoegberg said in an email.
"A side effect report does not equal a real side effect."
Hoegberg added the publicly available database shows "some very basic information about the adverse drug reactions that have been reported, but it lacks a lot of important information and context".
Hoegberg said it was not possible to show the full details of each reported incident because of privacy and data protection regulations.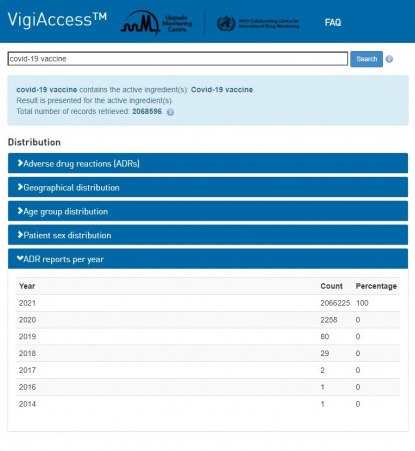 A screenshot of Covid-19 vaccine adverse drug reactions on VigiAccess, taken on September 22, 2021
She added that VigiAccess data has been misused as proof that vaccines are dangerous.
"In some cases, it may simply be that people do not understand what they're looking at and misinterpret the information. Other times, they misrepresent the information on purpose to fuel their own agendas," Hoegberg said.
"UMC's standpoint is that the benefit of the Covid-19 vaccines outweighs the risks."
Similar misinformation about the Vaccine Adverse Event Reporting System used in the United States has been debunked by AFP Fact Check here.
Ivermectin safety
The ACDP used the table to claim that the drug ivermectin is safe as a Covid-19 treatment because the purported number of adverse reactions is comparatively lower to vaccines.
The use of ivermectin has become a minefield in South Africa, with regulators insisting there is inadequate scientific proof to show that the drug, usually used to treat parasites, is a viable treatment for Covid-19.
Nonetheless, the South African Health Products Regulatory Authority (SAHPRA) implemented a "controlled compassionate use programme" that allowed doctors to access unregistered ivermectin-based medication in limited circumstances.
Following a court application lodged by several organisations, including the ACDP, a settlement agreement was reached with SAHPRA in April 2021 that effectively allowed doctors broader access to ivermectin.
But, while clinical trials are ongoing, SAHPRA continues to follow the recommendations of the U.S. Food & Drug Administration, which advises against the use of ivermectin for the prevention or treatment of Covid-19 in humans as available information has not yet proved its efficacy.
The only formulation containing ivermectin registered by SAHPRA to date is the Soolantra 10mg/g cream, which is "indicated for the topical treatment of moderate to severe inflammatory lesions of papulopustular rosacea in adult patients and is not suitable for the prevention or treatment of Covid-19".
SAHPRA has also approved a list of unregistered ivermectin products that are "deemed suitable for human use".
In the United States, certain formulations of the drug are approved for use by people in specific cases.
"For humans, ivermectin tablets are approved at very specific doses to treat some parasitic worms, and there are topical (on the skin) formulations for head lice and skin conditions like rosacea," the FDA website reads.
Furthermore, the FDA said it had received "multiple reports of patients who have required medical attention, including hospitalisation, after self-medicating with ivermectin intended for livestock".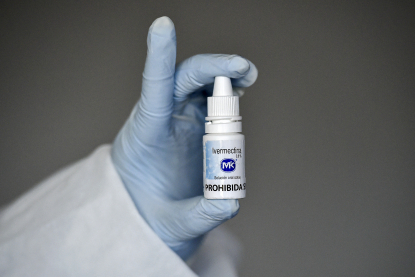 The FDA remains steadfast in its refusal to approve ivermectin for Covid-19 patients ( AFP / LUIS ROBAYO)
AFP Fact Check has previously debunked multiple claims about ivermectin, including here and here.
Covid-19 vaccine safety
The claim that Covid-19 vaccines are unsafe is false.
Millions of people have safely received Covid-19 vaccines that were carefully tested and continue to be monitored, according to the WHO.
As with all other vaccines, Covid-19 vaccines go through multiple rigorous testing processes, including large clinical trials that involve tens of thousands of people.
"An external panel of experts convened by WHO analyses the results from clinical trials and recommends whether and how the vaccines should be used," reads the WHO page on Covid-19 vaccine safety.
Officials in each country then decide whether to approve the vaccines for national use and develop policies based on WHO recommendations.
South African officials have investigated 86 reported deaths of people who were inoculated with Covid-19 vaccines and to date they have found no causal link between the two in 40 of the cases.
The other 46 are still under investigation, according to SAHPRA.