Protest video spreads false claims in South Africa about Covid-19 and vaccines
An anti-vaccine protester makes a string of false allegations about Covid-19 in a video shared on Facebook in South Africa, including that vaccines have not been officially approved, children don't die from the disease, and PCR tests are fraudulent. AFP Fact Check has investigated and debunked the claims.
The video has been shared more than 1,300 times since it was posted on Facebook on August 24, 2021.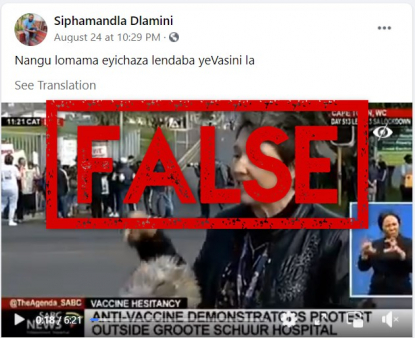 Screenshot of the post, taken on September 1, 2021
The video, captioned in South Africa's isiZulu language, translates to: "Here this woman is explaining the issue with the Covid vaccine."
In the clip, a female protester being interviewed by SABC outside Groote Schuur Hospital in Cape Town makes several unsubstantiated claims, including that Covid-19 vaccines have never been approved by any official body because they are not safe.
"This vaccine is experimental. It has never been approved by any department because it cannot be approved because it's dangerous," she says.
She also alleges that the vaccines make people sterile and modify their DNA, that children do not die from Covid-19, and that PCR tests are fraudulent.
According to SABC, the woman had joined other protesters outside the Cape Town hospital in support of heart surgeon Dr Susan Vosloo who drew attention after making anti-vaccination claims in a recent webinar. AFP Fact Check debunked the Vosloo's claims here.
As of September 6, 2021, Covid-19 cases globally were over 220.7 million, causing at least 4.5 million deaths. On the African continent, South Africa is the most affected country, with more than 2.8 million infections and over 83,000 deaths.
Vaccines in SA are approved and safe
The pandemic has sparked an avalanche of misinformation regarding Covid-19.
Contrary to the protester's allegations, the vaccines in South Africa are not experimental.
So far, the government of President Cyril Ramaphosa has approved vaccines by AstraZeneca, Pfizer-BioNTech, and Johnson & Johnson.
The World Health Organization (WHO) said the three vaccines had been rigorously tested for safety.
"All Covid-19 vaccines approved for emergency use by WHO have been thoroughly tested and proven to provide a high degree of protection against serious illness and death," the UN health agency told AFP Fact Check.
AstraZeneca and rare blood clots
In March 2020, health authorities in several European countries halted the use of AstraZeneca's vaccine because of concerns that it could increase the risk of blood clots.
AFP reported on the potential health hazards linked to the jab here.
However, a WHO report released in March 2021 found that "available data do not suggest any overall increase in clotting conditions such as deep venous thrombosis or pulmonary embolism following administration of COVID-19 vaccines".
The European Medicines Agency advised that blood clots should be listed as a very rare side effect of the AstraZeneca vaccine, adding that the overall benefit of the vaccine in preventing Covid-19 outweighed the risks.
AstraZeneca told AFP Fact Check the vaccine was safe and has been granted "emergency use authorisation by the WHO and is currently being administered in more than 142 countries across the globe".
Pfizer
In April 2021, Pfizer released a detailed report of its Covid-19 trials that had been conducted with more than 44,000 participants across the world, which found that there were "no serious safety concerns".
The US granted the vaccine full approval on August 23, 2021, as AFP reported.
Johnson & Johnson
The Johnson & Johnson vaccine trials included more than 477,000 participants in South Africa and another 40,000 in the United States.
In April 2021, the vaccine rollout was briefly halted in the US after six blood-clot cases were reported among the seven million people who had been given the jab. The pause was lifted after a safety review found the vaccine to be "safe and effective in preventing Covid-19."
Unproven infertility claim
In the video, the female protester claims that Covid-19 vaccines can cause infertility. "The vaccine(...) makes you sterile," she can be heard saying.
The US Centers for Disease Control and Prevention (CDC) states on its website that "there is currently no evidence that any vaccines, including Covid-19 vaccines, cause fertility problems (problems trying to get pregnant)".
Kate White, an obstetrics and gynaecology professor at Boston School of Medicine, told AFP Fact Check in March 2021 that "there's no vaccine in the world that can cause infertility".
Dasantila Golemi-Kotra, a microbiologist at York University, told AFP that "vaccine-induced antibodies against SARS-CoV-2 spike protein are unlikely to cross-react with the syncytin-1 or -2 in the body and lead to infertility".
Golemi-Kotra explained that the misinformation could be stemming from the fact that the anti-spike protein antibodies and the syncytin-1 protein of the placenta share a "very short amino acid region".
But this doesn't mean that the immune system would attack the syncytin protein. The immune system can "recognise a surface in their target protein, which rarely is confined to a single short amino acid sequence," she said.
Covid vaccines do not alter DNA
According to the protester, the Covid-19 virus has never been isolated.
However, in a report updated in December 2020, the CDC reported that it isolated the virus on January 20, 2020, and produced specimens in cell culture that were later distributed to other laboratories for studies. South African laboratories reported isolating the virus on April 1, 2020.
The woman also claimed that the vaccines can modify human DNA -- an allegation widely rejected by scientists. AFP Fact Check has previously debunked the claim here and here.
Matthew Miller, an associate professor with the Department of Biochemistry and Biomedical Science at McMaster University in Canada, told AFP Fact Check in March 2021 that "mRNA is the code for proteins. It does not alter the DNA of your cells. Indeed, your cells naturally make mRNA from DNA."
Barry Pakes, an assistant professor at the Dalla Lana School of Public Health at the University of Toronto, told AFP Fact Check in April 2021 that "the mRNA cannot be integrated into the human genome. We (humans) lack the enzymes to reverse transcribe mRNA to DNA".
The CDC also refutes the claim that Covid-19 vaccines can alter people's DNA.
"Covid-19 vaccines do not change or interact with your DNA in any way. Both mRNA and viral vector Covid-19 vaccines deliver instructions (genetic material) to our cells to start building protection against the virus that causes Covid-19. However, the material never enters the nucleus of the cell, which is where our DNA is kept," the organisation states on its website.
Children are infected and can die of Covid-19
The protester also claimed that "children do not die" from Covid-19.
Under South African law, a child is any person who is "under the age of 18 years."
Data from both the CDC and WHO indicates that Covid-19 infects children of all ages, from newborns to teenagers.
As of May 2021, at least 8,700 children worldwide had died of Covid-19. Of these deaths, 60 percent occurred among children aged 10-19 while the other 40 percent occurred among children of 9 years and below.
In June 2020, South Africa's National Institute of Communicable Diseases (NICD) released a report showing that 184,187 children had tested positive for Covid-19 in the country since March 2020 when the first case was reported, with 11,129 of them treated in hospital.
From March 2020 to June 2021, children under the age of 19 accounted for 10.2% of laboratory-confirmed #COVID19 cases. While children have been infected at a lower rate than adults, they can become infected and spread the virus to others. Read more here https://t.co/JGgtEtL0rb

— NICD (@nicd_sa) July 6, 2021
The report says that among all deaths in individuals aged 19 years and below, "146 (38.4%) were among adolescents aged 15-19 years and 121 (31.8%) were aged under one year".
PCR tests reliable and accurate
Finally, the woman alleged that the so-called PCR tests used to test and detect Covid-19 infections are inaccurate and unreliable. This is false.
PCR stands for Polymerase Chain Reaction, a process used to amplify DNA that detects the presence of a virus in the body. PCR tests work by scanning the RNA in a sample, such as a nose swab, to detect the virus.
AFP Fact Check has previously debunked claims that PCR tests do not detect Covid-19.
Kenya's Ministry of Health Director-General Dr Patrick Amoth told AFP Fact Check in April this year that PCR testing is the most accurate and reliable Covid-19 test.
"PCR is the gold standard test for Covid-19 globally and is the best for which others are compared to," said Amoth.
Dr Hanan Balkhy, a professor of pediatrics and infectious diseases, corroborated Dr Amoth's sentiments in an interview with WHO's Vismita Gupta-Smith, saying that PCR testing is the most accurate Covid-19 test.
AFP Fact Check has debunked numerous other claims about Covid-19 vaccines, available here.