Hoax Facebook page advertises non-existent jobs at McDonald's in South Africa
A Facebook post claiming to offer 650 new jobs for general staff and cashiers at McDonald's fast-food restaurants in South Africa has been shared hundreds of times. But the post is a scam and a regional spokesman from McDonald's denied any association with the page behind the jobs listings.
The purported advert was published here on Facebook on April 30, 2021, on a page called "All Jobs SA". It has been shared more than 300 times and claims to offer jobs at McDonald's without qualifications needed and a minimum monthly salary of R5,500.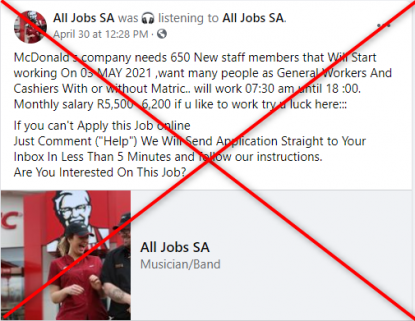 Screenshot of the fake jobs post, saved on May 5, 2021
The post asks those interested in work to submit their applications online; however, no other information about the application process is provided. People unable to apply online are asked to comment with the word "Help".
Many of those who responded to the post commented with the word "Help", and some even included telephone numbers.
The same advert was also reposted here on the same Facebook page on May 5, 2021, and has been shared more than 70 times.
McDonald's is an American fast-food chain with restaurants around the world, including over 300 outlets in South Africa.
No McDonald's job listings on Facebook
However, the purported jobs are nothing more than a sham.
McDonald's confirmed to AFP Fact Check that it has no association with the Facebook page and added that it has not advertised any positions.
"The jobs are a hoax; we are not associated with the jobs advert on the Facebook page in question," said Daniel Padiachy, a McDonald's spokesman based in South Africa.
Other fake online job listings linked to McDonald's have been reported by the company, the spokesman added.
Jobs posted on imposter page
Facebook's page transparency information shows that the page was created on April 14, 2021, and is registered in the category "music/band".
Screenshot showing page transparency information of the imposter page, taken on May 5, 2021
The page is managed in South Africa and claims to offer employment at other national companies, retailers, and government departments. Posts typically follow a similar format and have familiar language and tone (here and here). 
In comparison, the official McDonald's Facebook account was created on February 19, 2009.
Screenshot showing page transparency information of the genuine McDonald's Facebook page, taken on May 5, 2021
AFP Fact Check has debunked several other job hoaxes here, here, and here.