Facebook page promotes fake jobs in South Africa and Kenya
Three posts shared on Facebook claim to offer jobs for casual workers at PEP Stores, a leading retail company in South Africa. However, the posts are a scam and the firm has denied any association with the page behind the purported listings.
The hoax advert was first posted here on Facebook on March 1, 2021, on a page called "PEP Store Casual Worker Jobs".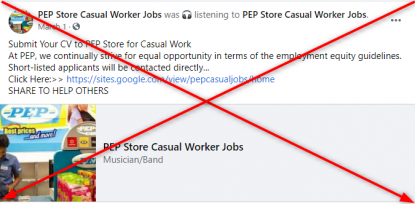 Screenshot of the post, taken on April 14, 2021
The post asks applicants to send their curriculum vitae (CV) to a Google site link and encourages them to "share to help others". 
The same advert was also posted here and here on Facebook.
PEP Stores is a major retail chain in Africa that stocks a variety of products ranging from clothes, footwear, and homeware to a variety of products. 
Another of the posts, since removed, read: "We are hiring General Workers!! Now at PEP Store... More stuff needed... Cashiers, Cleaners, and General Workers needed. Opportunity available in all Pep Store. Closing date: 23 April 2021(sic)". Job seekers are asked to submit their applications online using a link provided.
Screenshot of a post shared more than 600 times and since removed
No PEP job listings on Facebook
PEP Stores confirmed that it has no association with the Facebook page in question and added that it has not advertised for those jobs.
"We are aware of the fake job vacancies for PEP that are currently advertised on various Facebook groups. Please be advertised that PEP does not advertise any job opportunities on Facebook and is in no way associated with these posts," reads the statement sent to AFP Fact Check on Facebook Messenger.
PEP Stores also clarified that it only posts job openings on its official website in the careers section. 
Jobs posted on imposter page
The imposter Facebook page was created on February 27, 2021, and is registered in the "musician/band" category.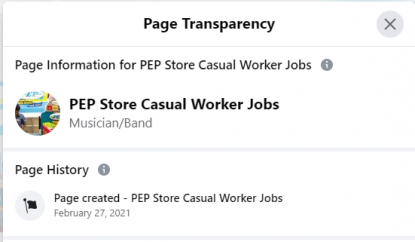 Screenshot showing page transparency information of the imposter page, taken on April 14, 2021
The official PEP Stores Facebook account was created on July 27, 2011.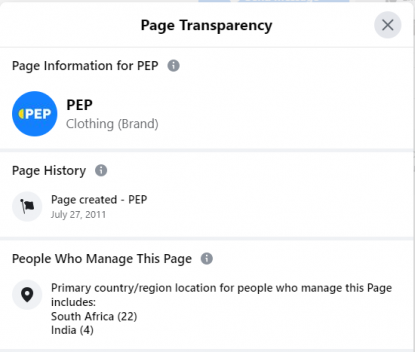 Screenshot showing page transparency information of the genuine PEP Stores Facebook page, taken on April 15, 2021
A domain search on the application link attached to the false posts shows that it is not associated with PEP Stores. The domain was registered on March 26, 2019. 
Screenshot showing the domain information for the imposter website, taken on April 15, 2021
The legitimate PEP Stores registered its website domain on June 22, 1997.
Screenshot showing the domain information of the legitimate PEP Stores website, taken on April 15, 2021