Photo of Filipino fast food chain mascot doctored to include support for presidential hopeful Marcos Jr
An image has been repeatedly shared in social media posts that claim it shows a Filipino fast food chain's mascot holding a sign in support of Ferdinand Marcos Jr, the frontrunner in the Philippines' upcoming presidential election. Comments on the posts indicated some social media users believed the image was genuine. In reality, the image had been digitally altered to insert a reference to Marcos Jr, the son and namesake of the country's former dictator.
"Well done jollibee u (sic) made a right decision", reads the caption alongside the photo shared on Facebook on January 18, 2022.
Jollibee is the largest fast food chain in the Philippines.
The image appears to show Jollibee's mascot posing with a sign that reads "BBM 2022" outside a Jollibee restaurant.
"BBM" are the initials of Marcos Jr, the frontrunner in the country's May 2022 presidential election.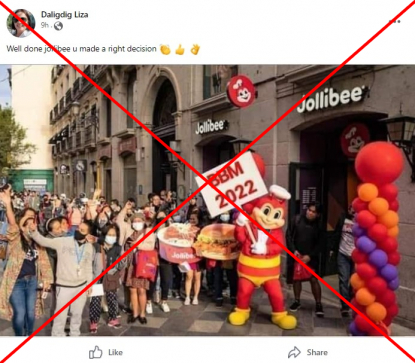 Screenshot of altered image taken on January 20, 2022
The image was also shared alongside a similar claim on Facebook here and here.
Comments on the posts indicated some social media users thought the photo was genuine.
"That's how great our chosen president is, even Jollibee is now an ally," one commented.
"Yes, BBM, Cheers Jollibee," another wrote.
However, the image has been doctored.
A combination of reverse image and keyword searches found the original image was published in a post here on Jollibee's Facebook page on September 24, 2021.
The original image shows the opening of a Jollibee branch in Spain, according to the post.
The caption reads: "Jollibee brings the Joy of eating as it opens its first store in Spain at Puerta del Sol, Madrid! Eager customers lined up as early as 10 pm of the previous day to get a taste of their [delicious-smelling] favorites!"
In the original image, Jollibee's mascot is holding a sign that reads "1st in Spain".
Below is a comparison of the altered image (L) and the original photo (R):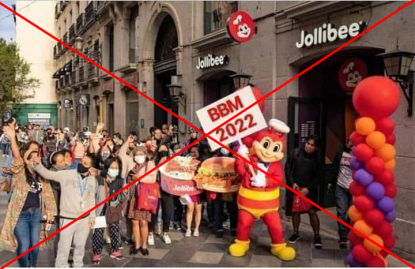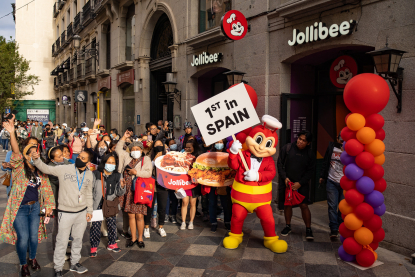 In response to the misleading posts, a Jollibee spokesperson told AFP: "The original image posted in our Facebook page was for our Spain store opening last year bearing [the] '1st in Spain' signage held by the Jollibee mascot."
Local news organisations ABS-CBN, GMA News, Philippine Star and Inquirer also published the original photo in reports about Jollibee's store opening in Spain.
AFP has previously debunked digitally altered images -- including here, here, and here -- alongside claims they show support for Marcos Jr's presidential bid.
March 17, 2022 This article was amended to add a 'Philippine elections 2022' tag in the metadata