Burj Khalifa photo doctored to add Philippine politician's campaign graphic
A photo has been shared in Facebook and TikTok posts that claim it shows the Burj Khalifa skyscraper in Dubai displaying an election campaign graphic for Philippine presidential hopeful  Ferdinand "Bongbong" Marcos Jr. But the claim is false; the photo has been doctored to insert Marcos Jr's image onto an original photograph of the Burj Khalifa taken in 2019. A representative for the skyscraper told AFP the photo is "not genuine". 
The photo was shared on Facebook on November 9, 2021.
It appears to show the Burj Khalifa in Dubai displaying an image of Marcos Jr with text that reads: "BONGBONG MARCOS / MY PRESIDENT / 2022". Fireworks could be seen in the background.
Screenshot of the Facebook post taken on November 9, 2021
The photo's Tagalog-language caption translates as: "The people's trust in Bongbong Marcos is as high as the Burj Khalifa in Dubai".
The post includes the hashtags "#PresidentBongbongMarcos" and "#BongongMarcosInBurjKhalifaDubai".
The photo circulated weeks after Marcos Jr -- son and namesake of the country's late dictator -- announced he would run for Philippine president in the 2022 elections.
The photo was also shared on Facebook here and here, and on TikTok here, here and here.
But the photo has been doctored.
Combined reverse image and keyword searches on Google found a nearly identical photo shared on Facebook on June 13, 2019.
The older photo shows the Burj Khalifa with the Philippine flag -- but without the Marcos Jr campaign graphic or the fireworks in the background.
Its caption reads in part: "Proud moment for all Filipinos not only in the UAE but also all over the world as our Philippine Flag was shown in the tallest tower in the world Burj Khalifa to commemorate the 121st Philippine Independence Day of the Philippines".
Below is a screenshot comparison of the doctored photo (L) and the original photo (R):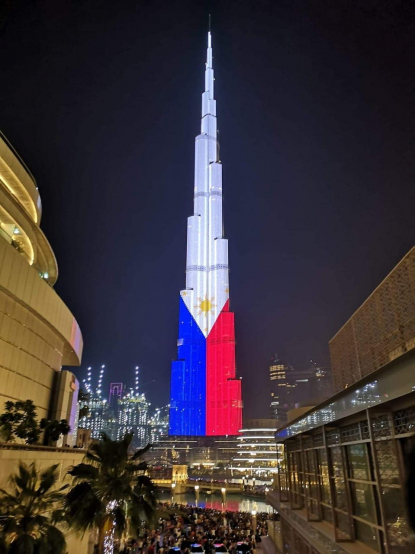 The original photo corresponds to a video posted on Burj Khalifa's official Facebook page on June 13, 2019.
Marcos Jr's image was not displayed when the building lit up at the video's 11-second mark. The video also shows no fireworks during the event.
A representative for Burj Khalifa confirmed to AFP on November 11 the photo of the skyscraper with Marcos Jr's image is "not genuine".
The Filipino Institute, the group of overseas Filipino workers that took the photo in 2019, also said the original had been doctored.
"No image [of Marcos Jr]. This was during the Independence Day celebration", a representative for the institute told AFP on November 10.