Image doctored to add slogan supporting Philippine presidential candidate Marcos Jr
A picture circulating on Facebook purports to show a campaign banner displayed on a highway supporting Philippine presidential candidate Ferdinand "Bongbong" Marcos Jr. However, the image is doctored. The reference to Marcos Jr was digitally inserted onto a photo of a banner that originally showed a message criticising an anti-terror bill.
The image, which was shared on Facebook on November 20, appears to show a banner that reads: "GOODBYE DUTERTE! WELCOME BONGBONG MARCOS!"
Ferdinand "Bongbong" Marcos Jr, popularly known as "BBM", is the son and namesake of the Philippines' former dictator. He is seeking to replace President Rodrigo Duterte in the 2022 elections.
The Tagalog-language Facebook post reads in part: "Today 11.21.21 is the biggest caravan and gathering of BBM SUPPORTERS in the NCR". NCR refers to the Philippines's National Capital Region.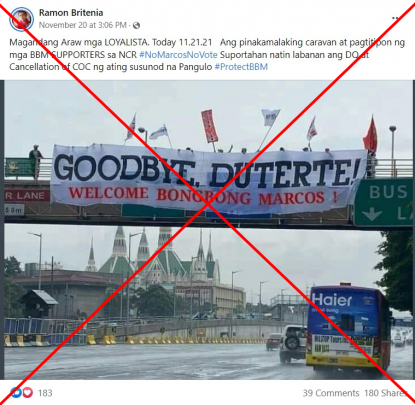 Screenshot of altered photo taken on November 24, 2021
Marcos Jr is running alongside Duterte's daughter Sara as vice president, although Duterte endorsed his long-time aide Senator Bong Go for the top job instead.
The outgoing president has called Marcos Jr a "weak leader" and a "spoiled child".
The same image was shared on Facebook here, here, and here.
Some social media users appeared to believe the banner was genuine.
"Wow, it was hoisted near where I live", one person commented.
"It's along Commonwealth Ave. Look what happened", another said, apparently referring to a highway in Quezon City in the Philippine capital region.
However, the image has been doctored.
A reverse image search found the original photo published by Philippine media organisation News5 on Facebook on July 25, a day before Duterte's final State of the Nation address.
The original text on the banner read: "GOODBYE DUTERTE! Movement Against the Anti-Terrorism Act / MATA".
News5's Tagalog-language Facebook post reads: "The message of the group Movement against the Anti-Terrorism Act (MATA) which they hoisted in a banner in an overpass along the stretch of Commonwealth Avenue in Quezon City is clear and huge."
The group opposed new legislation signed by Duterte in 2020, arguing that the definition of terrorist acts was vague and could be used against government critics.  

The original photo was also published by Philippine news organisation Rappler.
AFP previously debunked another doctored version of the same photo which circulated in posts that claim it showed a campaign banner supporting Sara Duterte.