This image has been doctored -- it originally featured an anti-Duterte banner
An image has been shared in multiple Facebook posts that claim it shows a banner backing the daughter of Philippine President Rodrigo Duterte to replace him after his term expires in 2022. But the image has been doctored: it originally featured a banner with an anti-Duterte message.
The doctored photo was shared here on Facebook on July 26, 2021.
It shows a group of people hoisting a banner that appears to read: "GOODBYE, DUTERTE! / WELCOME SOON INDAY SARA DUTERTE".
The post's caption states: "Past and Future President".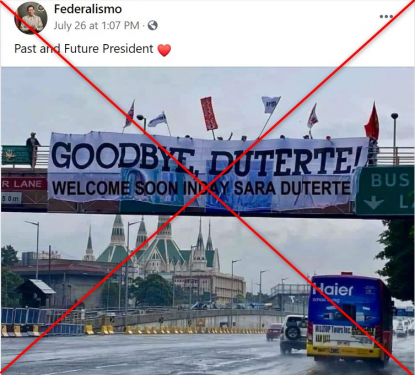 A screenshot of the misleading post taken on July 29, 2021
The post circulated online the same day Duterte delivered his last State of the Nation address before he is due to step down in 2022.
Duterte is not allowed to seek re-election under the Philippine constitution's one-term limit but his daughter Sara is widely expected to contest the top job, AFP reported.
Identical images were also posted on Facebook here, here, and here.
Comments on these posts indicate some social media users were misled.
"Funny how those [Duterte] supporters beat protesters into hanging a banner there first," one wrote.
The image however has been doctored.
A Google reverse image search, followed by keyword searches, found the original photograph was shared here by Philippine media site News5 on July 25, 2021.
The reference to Sara Duterte was digitally inserted into the doctored image.
The original banner reads: "GOODBYE DUTERTE! / Movement Against the Anti-Terrorism Act / MATA".
Below is a screenshot comparison of the doctored image (L) and the original photograph shared by News5 (R):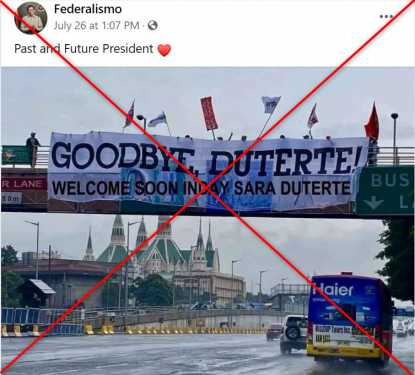 The original photograph was also shared here by Philippine news organisation Rappler.
A representative for the Movement Against the Anti-Terrorism Act (MATA) -- the Filipino pressure group which hoisted the banner -- said the image in the misleading posts had been doctored.
"[The banner is] a rejection of the entire Duterte dynasty who seeks to cover up killings, abuses, ineptitude and corruption," the representative told AFP on July 28.