Posts misrepresent UN position on sex between adults and minors
Conservative social media influencers are claiming a March 2023 report shows the United Nations calling for the decriminalization of sex between adults and minors across the globe. This is false; the report, which was prepared by an international human rights organization as guidance for the application of criminal laws, has been misrepresented online, and the UN told AFP and said publicly that it has taken no such position.
"UN report calls for decriminalization of all sexual activity, including between adults and children," said the headline of an April 14, 2023 story from "Live Action," a non-profit anti-abortion group that has published numerous false and misleading health claims, according to NewsGuard, an organization that assesses websites' credibility.
Screenshot from Twitter taken April 21, 2023
The narrative fanned out across social media and was echoed in similarly misleading headlines on other right-leaning websites, such as the Blaze and the Washington Examiner.
"The United Nations issued this report calling on member nations to decriminalize sex between adults and minors," said one April 15 tweet from "@amuse," a conservative account that has previously promoted misinformation. "Should adults be allowed to convince kids to perform sex acts with them? The UN says yes."
Turning Point USA founder Charlie Kirk tweeted days later: "The UN is now advocating for the decriminalization of sex with minors ... They're coming for your children, folks."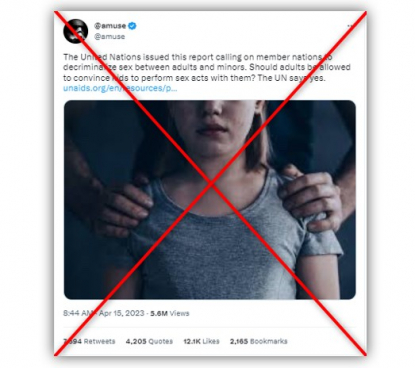 Screenshot from Twitter taken April 21, 2023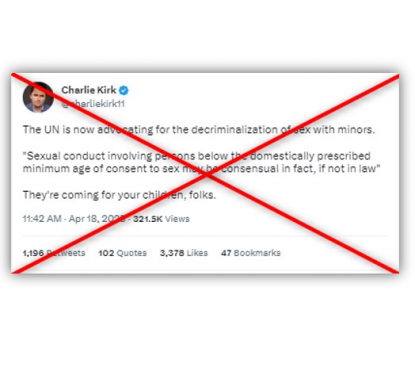 Screenshot from Twitter taken April 21, 2023
The claims build on longstanding conspiracy theories about pedophilia and months of rhetoric, often anti-LGBTQ in nature, among US conservatives warning about the so-called "grooming" of children.
But the articles and posts distort the guidance in the report written by the International Commission of Jurists (ICJ), a global non-governmental organization consisting of 60 lawyers and judges that is focused on defending human rights.
The 8 March Principles
The report titled: "The 8 March Principles for a Human Rights-based Approach to Criminal Law Proscribing Conduct Associated with Sex, Reproduction, Drug Use, HIV, Homelessness and Poverty," offers a legal framework and counsel on applying criminal laws to behaviors associated with sex and health, including "consensual sexual activities."
The document was produced in response to a 2018 meeting between the ICJ, the Joint United Nations Programme on HIV and AIDS (UNAIDS) and the UN's human rights office.It was written by the ICJ, not the UN, UNAIDS confirmed to AFP.
In an April 20 statement, the ICJ rejected the claims circulating online.
"The commitment of the United Nations to fighting the sexual exploitation of children and the content of The 8 March Principles have subsequently been seriously misrepresented on a number of social media and websites," the ICJ said. "The 8 March Principles do not call for the decriminalization of sex with children, nor do they call for the abolition of a domestically prescribed minimum age of consent to sex. Indeed, the ICJ stresses that States have a clear obligation under international law to protect children from all forms of abuses."
One section of the document says consensual sexual conduct should never be criminalized, irrespective of factors such as the type of sexual activity or the involved persons' sex, gender, sexual orientation or marital status.
"With respect to the enforcement of criminal law, any prescribed minimum age of consent to sex must be applied in a non-discriminatory manner. Enforcement may not be linked to the sex/gender of participants or age of consent to marriage," it says. "Moreover, sexual conduct involving persons below the domestically prescribed minimum age of consent to sex may be consensual in fact, if not in law. In this context, the enforcement of criminal law should reflect the rights and capacity of persons under 18 years of age to make decisions about engaging in consensual sexual conduct and their right to be heard in matters concerning them."
That passage became the basis for the articles and posts falsely accusing the UN of supporting laws to allow adults to have sex with children.
But those claims are "malicious misreporting," UN spokesman Stephane Dujarric said during an April 18 press conference.
The section has to do with consensual sexual activity between adolescents of similar ages, said Christine Stegling, deputy executive director for policy, advocacy and knowledge at UNAIDS.
"In the application of law, it is recognized that criminal sanctions are not appropriate against adolescents of similar ages for consensual non-exploitative sexual activity," Stegling said in an April 21 statement AFP. "So too, it is recognized that adolescents should not be prevented from accessing health services which protect them. The UN is resolute in fighting the sexual exploitation of children, upholds that sexual exploitation and abuse of children is a crime, and supports countries to protect children."
Aziza Ahmed, professor of law at Boston University, told AFP the language around the age of consent and the non-discriminatory application of laws is about protecting minors, not endangering them.
"This report does not call for sex between adults and minors or the decriminalization of sex with children," Ahmed, co-director of the university's program in reproductive justice, said in an email. "The report states that states should ensure that young people are not faced with criminal charges for engaging in consensual activity."
Ahmed noted that a country with "harsh laws against LGBT people" could, for example, prosecute young people for consensual sex if the age of consent is high or its laws lack language to prevent children from being tried.
"Courts, if acting in a fair manner and following from this report, should have the ability to ensure that the true capacity of young people to consent are taken to account rather than subject those children to harsh criminal penalties," she said.
AFP has previously debunked misinformation about age of consent laws in the US state of California, Canada and Mexico.