Hunter Biden rent conspiracy theory shared by conservative lawmakers
US Republicans and conservative influencers claim a background screening form allegedly filled out by Hunter Biden shows he paid President Joe Biden $50,000 per month to live at their Delaware home. This is false; the payments and dates listed on the form correspond with the younger Biden's lease of office space in Washington DC, and claims that his father charged him rent are unproven.
"Was Joe Biden really paid $50,000 a month by Hunter for a house that's worth comparatively very little. Who actually owns the house?" said former president Donald Trump in a January 17, 2023 post on Truth Social, his social media platform. "This is just the beginning of one of the greatest political and money laundering Scams of all time."
Trump echoed a narrative that had dominated conservative media and politicians in the days prior, spurred on by high-profile figures such as Fox News host Tucker Carlson. Some lawmakers vowed to investigate whether Hunter Biden paid his father $50,000 per month to live at their family home, where Joe Biden's personal lawyers uncovered classified documents from his time as vice president.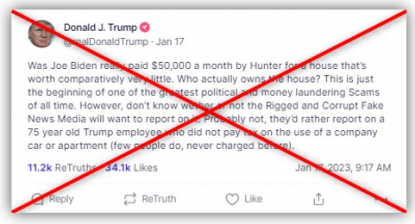 Screenshot from Truth Social taken January 24, 2023
The January 17 post was one of several that Trump, who faces a potential rematch against Biden in the 2024 race for president, posted about the supposed rent payments.
The rumor started when a pro-Trump Twitter account uploaded a photo of a "background screening request" that Hunter Biden allegedly filled out and signed in 2018. The picture came from largely unverified data stored on the hard drive of a laptop Hunter Biden left at a computer repair shop in 2019, the contents of which were leaked online by a former Trump White House aide.
The photo circulated widely online after New York Post writer Miranda Divine, the author of a book on Hunter Biden's laptop, shared it.
Headlines from sites such as Breitbart and the Daily Caller attracted thousands of readers. Posts from figures such as Donald Trump Jr, commentator Dinesh D'Souza and Congresswoman Lauren Boebert spread across platforms.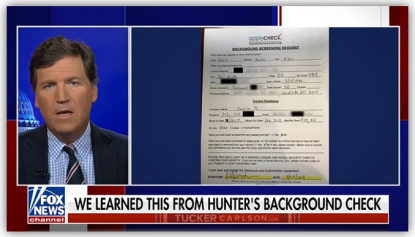 Screenshot taken January 24, 2023 of the January 16, 2023 episode of "Tucker Carlson Tonight"
Some claimed money laundering was in play. Others, piggybacking off another anonymous Twitter account, suggested the form implicated Joe Biden in tax fraud.
"Hunter Biden paid his dad $50,000 a MONTH in rent for the home that housed classified documents. During the same time frame, @JoeBiden only claimed less than $20,000 in rent payments PER YEAR," said Newsmax host Carl Higbie in one such post, referencing the president's publicly available tax returns.
But the document shared online does not show Hunter Biden paid his father to stay at their Delaware home. The $49,910 listed under "monthly rent" matches quarterly payments he made to the House of Sweden in Washington DC, which -- in addition to housing the Swedish and Icelandic embassies -- provides office space.
"I can confirm that Hunter Biden paid $49,910 in quarterly rent for an office space in House of Sweden," Maria Uggla, a press officer for Sweden's National Property Board, told AFP in an email.
The form
At the center of the claims is a background check screening form that Hunter Biden supposedly signed July 27, 2018.
The document includes the younger Biden's name and the address of his father's Delaware home under instructions that say: "Write Name as it appears on your Driver's License."
Beneath a section titled "Current Residence," Hunter Biden's firm Owasco PC is listed under "company name." The $49,910 figure appears under "monthly rent."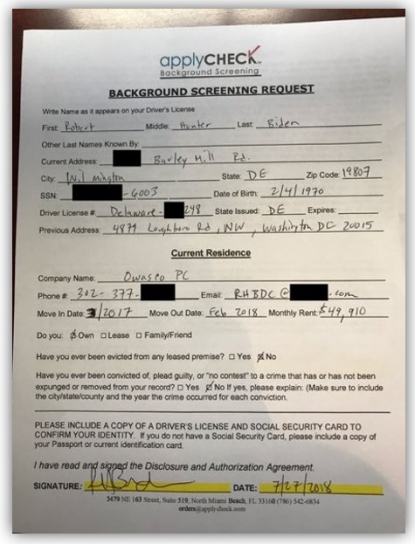 Photo taken from Twitter on January 24, 2023 that shows a form Hunter Biden allegedly filled out
AFP could not independently verify the authenticity of the document. But screening forms on the website of the background check company, Applycheck, contain a similar logo, layout and set of questions.
AFP reached out to the company, Hunter Biden's attorney and the White House for comment, but no responses were forthcoming.
Emails allegedly sent and received by Hunter Biden in summer 2018 -- which, according to the Washington Post, come from a part of the laptop hard drive that could not be verified as authentic -- suggest an assistant filled out the form.
The email exchange indicates Biden asked the assistant to help complete the form as he enquired about a rental property in the greater Los Angeles area of California. Citing an anonymous source, the Washington Post reported it had confirmed the assistant pulled the document together.
Rent for office space
Regardless of who jotted down the $49,910 figure, there is no evidence Hunter Biden paid his father that much in rent. In fact, the number appears to correspond to the younger Biden's payments for office space.
From March 2017 to February 2018 -- the "move in date" and "move out date" written on the background screening form -- Hunter Biden leased space at the House of Sweden for quarterly payments in that amount, Uggla of Sweden's National Property Board confirmed.
Uggla said another email shared online, in which the House of Sweden's general manager mentioned a $49,910 security deposit to Hunter Biden, appears to be authentic.
Corporate records show Owasco, which Hunter Biden controlled at the time, was registered to a Los Angeles address before its dissolution in 2021. But Rosemont Seneca Advisors, another venture of his, was registered at the House of Sweden's address in Washington.
Some who said the background screening form showed Joe Biden collected rent from his son later walked back their claims.
The Daily Caller retracted its report, while Breitbart published an update. Devine, the New York Post journalist, posted a series of tweets warning against jumping to conclusions.
"The rent may refer to the $50k rent he paid for his office at House of Sweden," she said in a January 16 tweet.
Hunter Biden, who for years struggled with addiction, remains under a federal investigation related to his prior overseas business dealings. House Republicans, in charge of the chamber for the first time since 2018, have vowed to launch further probes involving the president's son.
AFP has debunked other misinformation about Hunter Biden here and here.