Ohio train derailment fuels 15-minute city conspiracy theories
Social media users claim the train that spilled toxic chemicals in the US state of Ohio in February 2023 was intentionally derailed so the government could forcibly relocate rural Americans into "15-minute cities" and curtail their personal freedoms. This is false; the National Transportation Safety Board (NTSB) has said there is no evidence of foul play in the crash, and the 15-minute city urban planning concept is not aimed at restricting residents' autonomy.
"What better way to usher rural off grid folks who have no dependency on the system into their 15 minute cities by making their environment inhabitable (sic) through deliberate poisoning of their land water and air," says a February 18, 2023 Instagram post about Ohio.
Screenshot from Instagram taken March 14, 2023
Similar posts spread across Instagram, TikTok and other platforms. Figures such as John Sabal, who organizes conferences for supporters of the baseless QAnon conspiracy theory and is known online as "QAnon John," boosted the claim.
"Cleveland Ohio wants to be the FIRST '15 minute smart city' in the United States," Sabal said in February 28 posts on Truth Social and Telegram.
"Guess what?? East Palestine is approx 90 miles away from Cleveland. Guess what the US Govt can do with 'contaminated' & 'toxic' land…Evict the residents FORCEFULLY. I can't think of a better way to MAKE people relocate to a HEAVILY surveilled, and controlled WEF prison city."
Sherri Tenpenny, an anti-vaccine advocate who has previously amplified Covid-19 misinformation, added in a March 7 tweet: "Can they make it any more obvious? They use disasters to bring in and force ppl into their 15 minute cities."
Screenshot from Truth Social taken March 14, 2023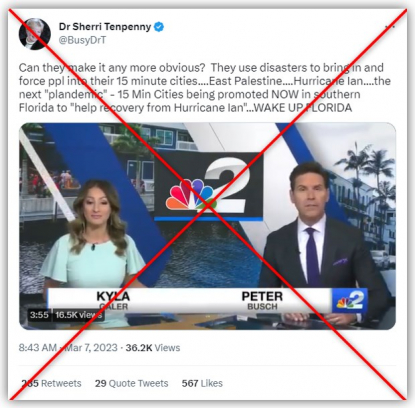 Screenshot from Twitter taken March 14, 2023
Such claims took hold online in the weeks after a Norfolk Southern cargo train derailed February 3 near the village of East Palestine, Ohio, setting off a days-long fire and the release of hazardous chemicals. Residents raised concerns about their safety despite reassurances from the government and the lifting of an evacuation order that was put in place while crews performed a controlled release of the fumes to avert a potential explosion.
There is no evidence the wreck in East Palestine was deliberate -- and the posts misrepresent a plan in nearby Cleveland to become a 15-minute city.
"There is no indication of anything other than an accident at this time," said Keith Holloway, a spokesperson for the NTSB, the independent US agency tasked with investigating major transportation accidents, in an email to AFP.
He cited a preliminary NTSB report released February 23. The document describes how the train crew received an alert from a hot bearing detector on the railway and tried to apply the brakes shortly before the derailment, which sent 38 of 150 cars off the tracks.
The wheel bearing was 253 degrees Fahrenheit above the air temperature, according to the sensor -- beyond the "critical" threshold.
"Surveillance video from a local residence showed what appeared to be a wheel bearing in the final stage of overheat failure moments before the derailment," the NTSB said in its report.
The video, published by news outlets such as CNN, shows sparks around the train's wheels nearly an hour before it jumped the tracks.
The NTSB previously told AFP there were "no indications" of sabotage or foul play.
15-minute cities
The conspiracy theories shared online reference Mayor Justin Bibb's plans to transform Cleveland into a 15-minute city, where residents can more conveniently access schools, grocery stores and other essential services. Other cities around the globe, including Paris, have been working on the urban planning concept.
The approach has been the subject of ample misinformation, with social media users falsely claiming it is part of a plot to restrict citizens' movement and other freedoms. Others have falsely connected 15-minute cities to the World Economic Forum (WEF) and the voluntary sustainability goals of the United Nations.
Carlos Moreno, a professor at the French capital's Sorbonne University, developed the 15-minute city idea in 2016. In a March 2, 2023 email, Moreno told AFP the paradigm is meant to guide urban planning -- not restrict where citizens can live and go.
"No one has ever talked about limiting anyone's movements," Moreno said. "It's a manipulation, lies.
"The 15-minute city is not about confining or restricting, but about freeing up time for citizens. It is not about preventing movement, but about giving everyone the choice to move. It is about stopping the long and tiring journeys that are forced by the current urban model. It is a proposal of happy proximity, not a prison."
Bibb first proposed the concept during an April 2022 speech. Sarah Johnson, the mayor's communications chief, said the goal of Cleveland's plans is to "provide convenient and equitable access to necessities like healthcare, schools, grocery stores, jobs and greenspace."
"Our transportation system and neighborhood configurations currently provide this access to residents with cars, which leaves out almost a quarter of our citizens," Johnson said in a March 14 email.
Asked whether the plan would limit residents' mobility -- or whether it would force other Ohioans to migrate to Cleveland -- Johnson said: "Not at all."
AFP has debunked other claims about 15-minute cities here, here and here.