TIME magazine cover with image of Nigerian presidential candidate Peter Obi is fake
Nigerian social media users are circulating posts claiming that Labour Party candidate Peter Obi was featured on the cover of TIME magazine in February 2023 – the same month the country held general elections. But this claim is false: Obi did not appear on the cover of TIME in February; the purported edition is fake.
"Only 4 Nigerians have ever made the front page of TIME Magazine: Gowon, Sade Adu, Ngozi Okonjo-Iweala, and now Peter Obi," reads the tweet published on February 25, 2023.
The post was published by popular Nigerian musician Charles Oputa, better known as Charly Boy, who supported Obi's presidential bid. The tweet has since been retweeted more than 8,900 times and drawn more than 37,000 likes.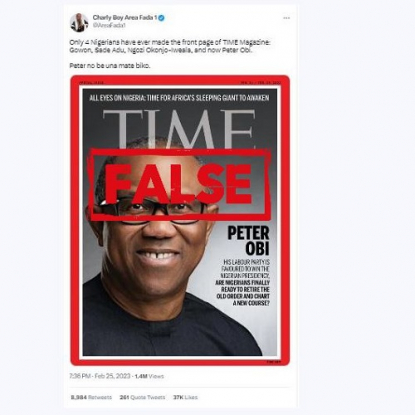 A screenshot showing the false tweet, taken on February 5, 2023
The purported cover shows Obi and a headline that reads: "Peter Obi: His Labour Party is favoured to win the Nigerian presidency, are Nigerians finally ready to retire the old order and chart a new course?"
Another headline on the banner of the magazine reads: "All eyes on Nigeria: Time for Africa's sleeping giant to awaken".
The claim also appeared on Facebook and elsewhere on Twitter (here, here, here and here).
The post surfaced on the same day Nigerians went to the polls.
However, Obi wasn't featured on the cover of TIME magazine for February 2023, or any other month.
Obi on TIME magazine cover?
By conducting a search in TIME magazine's archives, AFP Fact Check found the original February editions for 2023.
The first, which appeared on February 13, 2023, carried the following headline: "Division and destiny: How to build a truly equal American democracy". The image is a composite artwork.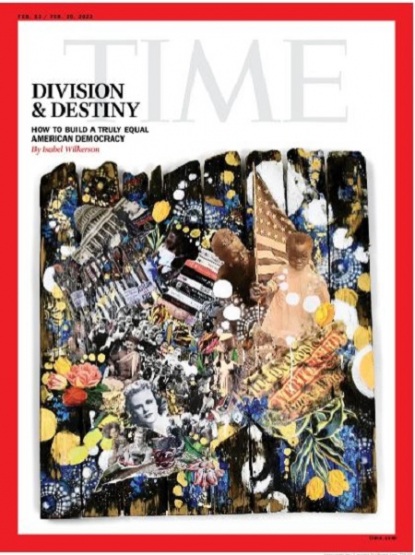 A screenshot showing the first February 2023 TIME magazine edition, taken on March 9, 2023
Two weeks later the magazine ran a cover story about artificial intelligence.
A screenshot showing the second February TIME magazine edition, taken on March 9, 2023
The magazine published an article about the Nigerian election on its website, not as a cover story.
AFP has previously debunked other instances of fake TIME magazine covers here and here. The magazine also offers tips to help readers spot hoaxes.
Nigerians who did feature
Searches by AFP Fact Check showed that Abubakar Tafa Balewa, Nigeria's first prime minister, made the front cover in December 1960.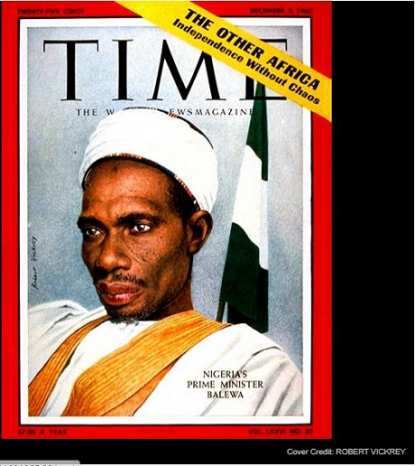 A screenshot showing Balewa on the front cover of TIME December 1960, taken February 5, 2023
Emeka Ojukwu, a former miliary officer and leader of the secessionist Biafra, featured in 1968.
Finally, Ngozi Okonjo-Iweala, the director general of the World Trade Organization, appeared on the cover in 2021 as part of the magazine's annual list of top 100 influential people in the world.
In an email response to AFP Fact Check, the magazine said the Obi cover was not authentic.