Purported TIME magazine cover featuring Sri Lankan president is not genuine, magazine says
A purported image of a TIME magazine cover story branding Sri Lankan President Gotabaya Rajapaksa the "world's worst president" has been shared hundreds of times in Facebook and Twitter posts after his crisis-hit country saw weeks of anti-government protests. However, TIME magazine told AFP the image does not show a genuine cover story. AFP found no evidence in the magazine's archive that the purported story was ever published.
The purported cover story was shared in this Facebook post published on April 11, 2022. 
The text on the image states Rajapaksa is "the world's worst president" and describes him as a "war criminal", "a racist", "a fraud" and "a thief". Notably, the text misspells his name.
The post's caption reads: "They [TIME magazine] are also saying it".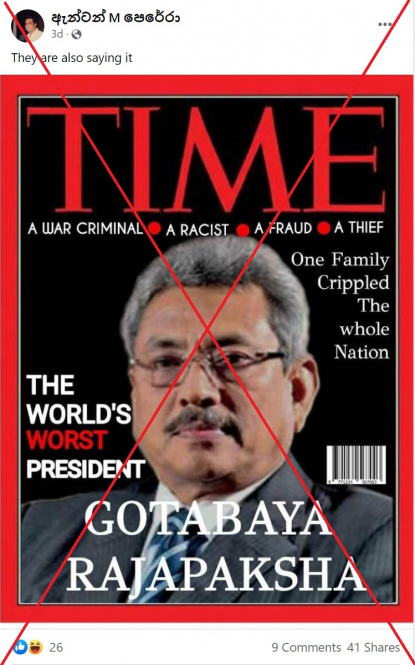 The image circulated on Facebook and WhatsApp as Sri Lanka suffered its worst economic crisis since independence from Britain in 1948, causing widespread misery for the island nation's 22 million people, AFP reported. 
Comments from some users indicated they believed the image shows an authentic TIME magazine cover.
One user wrote: "Now the whole world is aware of our President's feats. Shame on you Rajapaksas for ruining this country."
Another commented: "What a black mark on Sri Lanka. Mr. President, please leave without bringing more shame on Sri Lanka!"
The same image has been shared in multiple Facebook posts including here and here. It was also shared widely on Twitter including here, here and here. 
However, the purported magazine cover story is not genuine.
False cover
A spokesperson for TIME magazine told AFP that the purported cover story was not authentic, adding that the magazine has not published a cover feature on President Rajapaksa to date.
As of April 22, AFP found no such cover story about President Rajapaksa published in this archive of TIME covers released in 2022.
The misleading post's image features a purported barcode that did not yield any results when scanned with a smartphone with an in-built QR code scanner.
AFP has previously debunked other instances of fake TIME magazine covers here,here and here.