Unproven claims about Volodymyr Zelensky's wealth resurface online
Social media posts shared thousands of times say Volodymyr Zelensky earns $11 million per month, has billions in assets, including a $35 million house in Florida, and numerous other trappings of a moneyed lifestyle. This is unproven; public records show Ukraine's president does not own property in his name in the US state, financial disclosures and independent investigations indicate he is far from a billionaire, and none of the online claims include evidence of such significant wealth.
"The President of Ukraine owns a 35 million dollar home in Florida and has $1.2 billion in a overseas bank account," says text in an image that David Wolfe, an American author and raw food advocate, tweeted on February 24, 2023.
"Zelensky owns 15 homes, 3 private planes, and has a monthly income of 11 million dollars. Why is no one questioning where our AID is going?"
The tweet racked up more than 10,000 shares. Similar claims have also spread widely on Facebook and Instagram.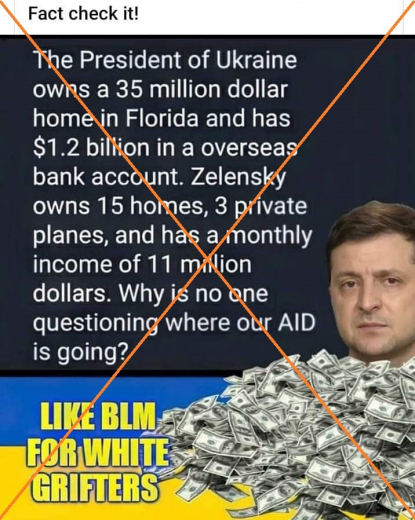 Screenshot from Twitter taken February 28, 2023
The posts appear to echo a claim that first emerged in February 2022 on a Telegram channel reportedly controlled by the Russian government. The allegations recirculated online as the US pledged $2 billion in additional security for Ukraine on February 24, 2023, the first anniversary of Russia's invasion.
The US has provided more than half of the $50 billion in military aid that Kyiv has received since the war began. That support has sparked criticism from some politicians, including 11 House Republicans who have co-sponsored a resolution to end American aid for Ukraine.
US defense officials have said there is no evidence Kyiv is misusing the aid -- and the figures shared in the social media posts are baseless, as other independent fact-checking organizations have reported.
"None of the above statements is true," Zelensky spokesperson Sergiy Nykyforov told AFP in a written statement. "This is a conscious but futile attempt to influence American society's support for the fight of the Ukrainian people for freedom and justice."
AFP reached out to Wolfe for comment, but a response was not forthcoming.
Property
Wolfe's tweet claims Zelensky, a former actor and comedian, owns a "35 million dollar home in Florida." An AFP review of public records in all 67 of the US state's counties indicated that the Ukrainian president does not own property there under his name.
Forbes estimated in a April 2022 article that Zelensky's real estate portfolio is worth $4 million. Among his assets: three wholly owned apartments -- including properties in Kyiv and Crimea -- two that he co-owns, one commercial property and five parking spaces.
Zelensky and his wife also listed two cars and six luxury watches on their 2020 asset declaration, according to reporting on the document filed with the National Agency on Corruption Prevention (NACP).
Forbes reported in 2022 that it found "no evidence" of a fleet of luxury yachts and private jets belonging to Zelensky. AFP also found no trace of the supposed assets listed in the social media posts.
The Pandora Papers, files obtained by the International Consortium of Investigative Journalists (ICIJ) and published in 2021, showed Zelensky and business partners established a network of offshore companies in 2012. The investigation involved some 600 journalists and was based on a leak of some 11.9 million documents from 14 financial services companies around the world.
According to its findings, two of the offshore companies belonging to Zelensky's partners were used to buy three properties in central London. But there is "no sign that Zelensky himself was a part of the London property deals," the Organized Crime and Corruption Reporting Project (OCCRP) wrote at the time.
Drew Sullivan, co-founder and publisher of the global network of investigative journalists, told AFP in a March 3 email that while Zelensky is "rich," OCCRP has "not found other assets" linked to him.
"Wolfe is not a journalist or expert," Sullivan added. "He sells pseudoscience health products. He is a self-described conspiracy theorist, a strident anti-vaxxer stating without evidence that vaccines cause autism, and has said the earth is flat."
The ICIJ declined to provide additional comment.
Net worth, income
There are seven billionaires in Ukraine, according to Forbes -- and Zelensky is not one of them. The president is worth "roughly $20 million," the magazine said in its 2022 report.
Multiple fact-checking outlets -- including some based in Ukraine -- have reached similar conclusions.
Zelensky and his wife, Olena Zelenska, declared more than $700,000 in bank accounts and $650,000 in cash on their 2020 financial disclosure, according to reporting on the form. The president's main asset, however, is an estimated 25 percent stake in Kvartal 95 LLC, a production company he founded in 2003 with friends from high school and law school.
"We see no significant changes since this article was published," said Volodymyr Landa, deputy editor-in-chief for Forbes Ukraine, in a March 7 email. "However, Kvartal 95 is getting cheaper as a business due to a significant decline in comedy show demand last year."
As for his salary, Zelensky received 336,000 UAH (Ukrainian hryvnia) as president in 2020, according to his most recent asset declaration. That is equivalent to nearly $12,500 annually, based on the average exchange rate in 2020.
Several Ukrainian news outlets reported in spring 2021 that Zelensky also declared 4.6 million UAH ($171,120) in royalties and 13.4 million UAH ($498,480) from the sale of a house and a plot of land. Most of the royalties came from Kvartal 95, which has an estimated annual revenue of $30 million.
Zelenska declared a 952,900 UAH ($35,447) salary from the company in 2020. That brings the family's total income that year to roughly $220,000, excluding the property sale -- far from the $11 million monthly figure claimed in the posts.
AFP repeatedly contacted NACP for additional comment, but a response was not forthcoming.
AFP has fact-checked other misinformation about Zelensky and the war in Ukraine here.