Pfizer CEO did not quit, mRNA vaccines proven safe
Social media posts claim Pfizer chief executive Albert Bourla quit after admitting messenger RNA (mRNA) vaccines are not safe. This is false; Bourla was still CEO of the US pharmaceutical giant in mid-December 2022, and public health authorities say Covid-19 shots from Pfizer-BioNTech and Moderna are safe and effective at preventing severe illness, hospitalization and death.
"Pfizer CEO Albert Burla (sic) is stepping down and now says the mRNA technology was not sufficiently proven when they launched ... He says they convinced him, but he wasn't sure. He admits it's not safe," says a December 10, 2022 tweet sharing a clip of Bourla viewed more than 350,000 times.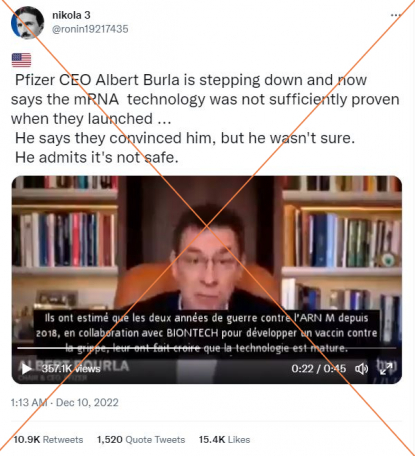 Screenshot of a tweet taken December 13, 2022
The clip quickly spread on Twitter in different languages. Similar claims without the video have also circulated on Facebook here, here and here.
The footage comes from a March 10, 2022 Washington Post Live interview, a full transcript of which can be accessed here.
"I was surprised when they suggested to me that this is the way to go, and I questioned it," Bourla says in reference to using mRNA technology to create a vaccine against Covid-19. "And I asked them to justify how can you say something like that, but they came, and they were very, very convinced that this is the right way to go."
He continues: "They felt that the two years of work on mRNA since 2018 together with BioNTech to develop the flu vaccine made them believe that the technology is mature and we are at the cusp of delivering a product."
But the CEO -- who is a frequent target of misinformation -- makes no mention of resigning, nor does he say mRNA vaccines are dangerous, contrary to what the posts claim.
"Albert Bourla continues to serve as the chairman and CEO of Pfizer. Any claims to the contrary are false," a Pfizer spokeswoman told AFP on December 13, adding that "the Covid-19 vaccine continues to be safe and effective for protection against severe disease and hospitalization."
Because mRNA technology differs from traditional vaccines, it has been the subject of many false claims since the US Food and Drug Administration (FDA) authorized its use.
Instead of injecting weakened or dead forms of the coronavirus to create an immune response, the mRNA vaccines from Pfizer and Moderna deliver instructions to cells on how to build a harmless piece of the virus's spike protein. After creating the protein, cells can then recognize and fight the coronavirus if infected.
Medical experts and public health authorities say mRNA vaccines, which were tested in clinical trials, are safe.
Johns Hopkins Medicine says on its website that the Pfizer and Moderna shots "are very safe and very good at preventing serious or fatal cases of Covid-19" and that "the risk of serious side effects associated with these vaccines is very small."
The US Centers for Disease Control and Prevention (CDC) recommends Covid-19 vaccination for everyone six months and older and boosters for those five years and older, if eligible.
AFP has debunked other false claims about vaccines here.