TV vote count correction not evidence of Georgia runoff fraud
Following the 2022 US Senate runoff election in the state of Georgia, social media users are sharing a video of the vote count decreasing during a Fox News broadcast to suggest foul play. But this is not evidence of fraud; the Associated Press (AP), which provides voting data for Fox News, said the number was overstated due to human error and was quickly rectified.
"It's #magic Hershel #Walker drops from 1,417,926 votes to 1,407,578 votes on live #TV at the same time Warnock increases votes," says a December 7, 2022 TikTok video with more than 1.2 million views.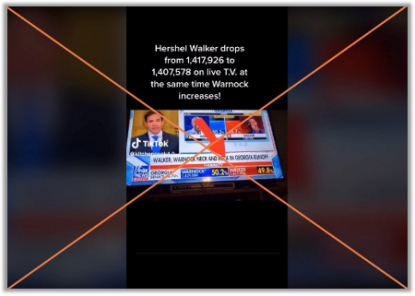 Screenshot of a TikTok taken December 8, 2022
The claim quickly spread to other social media platforms, including Instagram and Twitter.
Georgia incumbent Senator Raphael Warnock beat out Republican challenger Herschel Walker on December 6, 2022, securing a Democratic majority in the upper house of Congress. Warnock was the subject of online misinformation throughout the campaign, which came after a cascade of misinformation about fraud in the US midterm elections.
The online clip shows a broadcast update that lowered Walker's tally by approximately 10,000 votes. Warnock's total fell by more than 6,000 votes, contrary to the claim.
And although the footage used in the posts is genuine, accusations of fraud are without merit.
The AP, a global news agency headquartered in the US, provides election data -- including vote counts -- to clients such as Fox News. The change seen in the clip was due to an update that corrected a tallying error by election researchers.
"Human error caused us to provide incorrect, overstated numbers for Herschel Walker for less than a minute on Tuesday night. As soon as we saw the mistake, we quickly returned to providing the numbers reported by the state," Lauren Easton, the AP's vice president of corporate communication, told AFP.
Corrections are not uncommon when television networks broadcast live vote reporting.
A runoff was also required to determine a winner in Georgia after the November 2020 Senate race. That second vote took place January 5, 2021, and similar false claims were shared on social media using clips from ABC and CNN.
AFP has fact-checked other misinformation about the midterm elections here.