Mike Lindell revives baseless 'vote spike' claims after 2022 midterms
MyPillow CEO Mike Lindell, a US businessman who has repeatedly claimed that the 2020 election was stolen, says charts he shared online are evidence of voter fraud and election-rigging via voting machines in the 2022 midterms. This is an unproven conspiracy theory; there is no evidence that the upticks in vote tallies he has highlighted show anything other than the normal reporting of preliminary results.
"They are currently stealing Herschel Walkers race with the machines! We are watching everything with Cyber Experts through the EdisonReport at the Real Time Crime Desk," Lindell says in a November 8, 2022 post, which shows a line graph tracking vote counts in the US Senate race in Georgia.
The charts about races in Georgia, Illinois, Michigan and Minnesota were introduced by Jeff O'Donnell, a self-described data analyst who goes by "The Lone Raccoon" online, during an election-night livestream that Lindell marketed as an expose of "real-time crime" in the US midterms.
Lindell later posted screenshots of the charts on Truth Social, Telegram, Instagram and Facebook, where they circulated widely. The charts also generated stories on conspiracy-oriented websites including InfoWars, and O'Donnell uploaded interactive versions to his website, magaraccoon.com.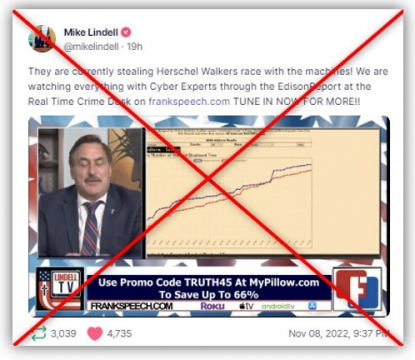 Screenshot of a Truth Social post from Mike Lindell taken November 9, 2022
Screenshot of a Telegram post from Mike Lindell taken November 9, 2022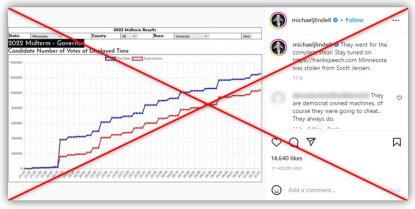 Screenshot of an Instagram post from Mike Lindell taken November 9, 2022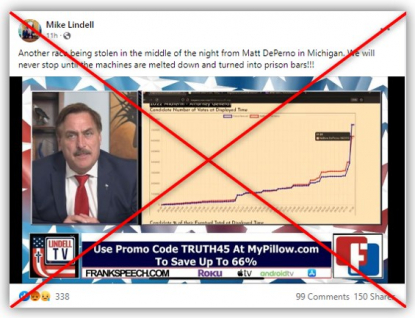 Screenshot of a Facebook post from Mike Lindell taken November 9, 2022
The promotion of the graphs follows Lindell's staunch support for former president Donald Trump's false claims that the 2020 election was stolen, which led to lawsuits against the businessman by voting machine companies he wrongly accused of manipulating vote counts in 2020.
O'Donnell, who supplied the charts, previously organized a campaign to flood election officials with requests for voting files he believed could prove such claims, according to reports.
But there is no evidence that Lindell's charts point to fraud.
"We have seen no evidence that any voting system deleted or lost votes, changed votes, or was any way compromised in any race in the country," the US Cybersecurity and Infrastructure Security Agency said in a statement on November 9.
Instead, the vote swings for various Democratic candidates that Lindell is framing as malfeasance "are absolutely typical of how vote counts proceed on election night," said Charles Stewart III, a professor of political science and expert on elections technology at the Massachusetts Institute of Technology (MIT). The same charts, and others like them, show bumps to the Republican vote totals at different times, too.
State election officials stressed to AFP that election-night results are always unofficial and that there has been no indication of widespread fraud.
"It is disappointing to see individuals who have repeatedly spread false information that undermines American democracy for their own personal gain continue to make baseless allegations against our election officials," said Cassondra Knudson, deputy communications director for the Minnesota Secretary of State.
AFP reached out to Lindell and O'Donnell, but no responses were forthcoming.
Lindell's sourcing
O'Donnell said on Lindell's livestream that he was "not going to say" what source he was using to power his charts.
Lindell, however, repeatedly referred to the data as coming from Edison Research, a company that provides election data, including unofficial vote counts as they are tallied and reported by election officials, to the National Election Pool, a consortium of US news outlets.
Lindell told Lead Stories they scraped that data from CNN.
But Rob Farbman, executive vice president of Edison Research, told AFP in an email that Lindell's claims are "made up lies based on line charts produced by someone we do not even provide data to" who "claims elections are fraudulent every time there is an election."
Farbman compared Lindell's charts to Edison Research's data for AFP and identified benign explanations for each of the vote jumps Lindell cast as suspicious.
"We have no indication of anything unusual in the vote count," added Lauren Easton, a spokesperson for the Associated Press, which compiles and records its own preliminary election results as they are reported by officials around the country.
Georgia
Lindell claims that in Georgia -- where the Senate race between Walker, a Republican, and incumbent Democratic Senator Raphael Warnock is headed to a runoff in December -- the election was being stolen by the voting machines used in the state.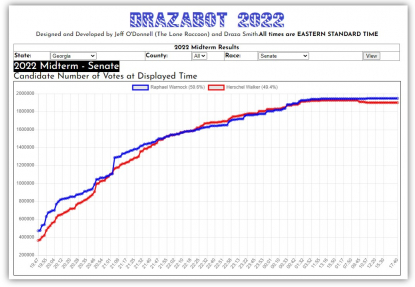 Screenshot from magaraccoon.com taken November 10, 2022
But Farbman said the jump in votes for Warnock actually represents the reporting of votes from DeKalb County, the largest county in Georgia, which is heavily Democratic.
The unofficial results from DeKalb County, as shown on the Georgia secretary of state's website, show Warnock received more than 84 percent of the vote there.
AFP reached out to Georgia election officials.
Illinois
Another of Lindell's posts claims, in reference to the Senate race in Illinois: "BREAKING! Million vote spike and the only explanation is corrupt electronic voting machines."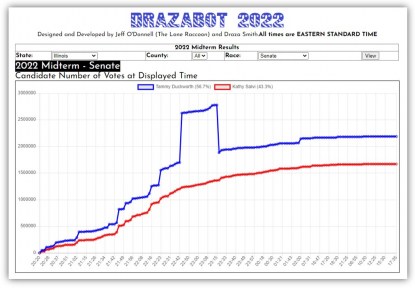 Screenshot from magaraccoon.com taken November 10, 2022
The chart appears to show a spike and subsequent drop in the vote count for Tammy Duckworth, the incumbent Democrat. Farbman said it was the result of a data entry error resulting from a typo that was promptly corrected.
"We added a 9 at the beginning of Duckworth's number in Rock Island," Farbman said, noting that the mishap occurred after the race had been called for Duckworth. "The vote typo was fixed minutes later."
Similar human errors sparked false claims of fraud in 2020.
MIT's Stewart, who helped work the CBS News decision desk on election night, said of such data-entry errors: "This is one of the reasons we emphasize that the election night returns are unofficial reports of election returns, not the returns themselves."
Matt Dietrich, public information officer for the Illinois State Board of Elections, said Lindell's conclusions were "complete nonsense."
"All election equipment used in Illinois elections undergoes statutorily required pre-election testing including a public pre-test to ensure accuracy on every ballot voted," he added. "We also run a 5 percent statewide random re-tabulation after the election to ensure complete accuracy in the counting of ballots. There is strict security protocol surrounding the voting equipment and the handling of all ballots. There is no credibility to any claim of 'corrupt' voting machines in Illinois."
Republican Kathy Salvi, Duckworth's opponent, conceded the race on election night.
Minnesota
A third post from Lindell claims, "They went for the complete steal! ... Minnesota was stolen from Scott Jensen."
Jensen, a Republican, ran for governor against Democrat Tim Walz. He has likewise conceded.
Screenshot from magaraccoon.com taken November 10, 2022
In reality, the swing in votes that Lindell's chart shows for Walz marks the moment Hennepin County, the largest county in the state and a Democratic stronghold, reported votes for the first time of the night, Farbman said. The timing is corroborated by the Minnesota secretary of state's log of unofficial results reported from the county.
Knudson, the Minnesota Secretary of State's spokeswoman, said the votes in Hennepin County went for Walz by a wide margin.
"We have no indication of any irregularity," Knudson said. "These claims seem to be based on the faulty assumption that any votes cast for a party other than the one the person making the claim prefers are somehow illegal or not eligible."
Michigan
A fourth post from Lindell focuses on the race for attorney general in Michigan. "Another race being stolen in the middle of the night from Matt DePerno in Michigan," the post says.
DePerno, the Republican candidate, has conceded to Democrat Dana Nessel.
Screenshot from magaraccoon.com taken November 10, 2022
The vote spike Lindell eyed in Michigan is not explained by fraud, but by vote updates from Oakland and Wayne counties, Farbman said.
There were "two very large reports of ballots from Wayne County, the largest and most Democratic county in the state," Stewart added. "Wayne had reported very few votes before then."
Jake Rollow, a spokesman for the Michigan Department of State, rejected Lindell's claims as "meritless, false and often nonsensical."
Election workers in Michigan count absentee ballots through election night and into the next day, Rollow said. "As jurisdictions finish this process and report their results, the total vote count increases by the total number of votes reported by each jurisdiction."
AFP has debunked other misinformation about the elections here, here, here and here.