Winnipeg Pride photo altered, shared with claim it shows 'Twitter staff protesting Elon Musk'
A manipulated image is circulating in social media posts that falsely claim it shows Twitter employees protesting massive layoffs at the company after billionaire Elon Musk took over. The photo was actually taken at a Pride parade in Canada in 2013 and the text on the banner has been altered to insert a message insulting Musk.
Warning: This article contains strong language
"So the Twitter employees fired by Musk are these colourful weirdos," reads a tweet from November 7 written in traditional Chinese characters.
The image shows a crowd of people in colourful clothing holding a banner that appears to read a message insulting Elon Musk and signed "sincerely, Twiter employees (sic)".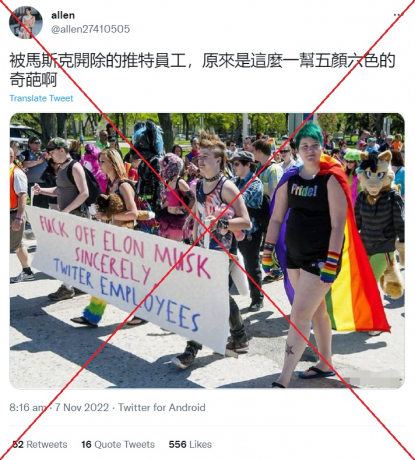 Screenshot of the Twitter post, captured on November 9, 2022
Musk fired roughly half of Twitter's 7,500 employees on November 4 after he sealed a $44 billion deal to take over the company, putting one of the top platforms for global discourse in the hands of the world's richest man.
The altered image circulated in various languages on platforms including Facebook, Twitter, Telegram and Weibo.
The original photo was in fact taken at a Pride parade in Winnipeg, Canada in 2013.
A Google reverse image search found the original photo in a post on image-sharing site Flickr which says it was taken on June 2, 2013.
In the photo, the banner features the text "Wild prairie furs & friends" alongside a rainbow, which is a symbol of the lesbian, gay, bisexual and transgender (LGBT) movement.
Screenshot comparison of the image shared in the false posts (left) and the Flickr photo (right)
The photo is titled: "Gay Pride Furries". Furries are a subculture of people who have an interest in anthropomorphised animals.
The caption reads: "There were furries at the Pride march in Winnipeg today. Other than people wanting pictures, nobody seemed bothered by them, and nobody harrassed them (sic)."
According to a webpage advertising the event, the 2013 Winnipeg Pride Parade was held on June 2 and started near the Manitoba Legislative Building.
The location of the photo near the Manitoba Legislative Building can be found on Google Street View, which shows trees and a bus stop sign seen in the photo.
Local newspaper The Winnipeg Free Press published various photos from the Pride parade taken directly in front of the Manitoba Legislative Building.
Meanwhile, staff at Twitter protested Elon Musk's layoff plans in an open letter in late October, before the Tesla boss finalised the takeover deal, TIME magazine reported.
AFP found no news reports of street protests by Twitter staff following Musk's takeover.
AFP has debunked a string of false claims since Musk took over Twitter, such as here and here.