Misleading posts about 'catalytic converter thief' spread in Canada, US
Messages claiming to show photos of a "catalytic converter thief" have been shared into Facebook buy and sell groups in a number of US and Canadian cities. But some of these posts have lifted images from news reports about thefts in unrelated locations in North America and follow the same pattern as other schemes designed to obtain users' personal information.
"Lets make this guy famous he's cutting catalytic converters in Goderich," claims an October 25, 2022 Facebook post shared in the Goderich Classifieds group in the province of Ontario. The post garnered more than 2,200 shares in two days.
Screenshot taken on October 27, 2022, of a Facebook post
A nearly identical post in a buy and sell group in the US state of Idaho was shared more than 1,600 times since September 27, 2022.
Catalytic converters are required on cars as a key part of emissions control. They contain valuable rare earth metals making them a target for theft. Provinces, including British Columbia and Manitoba, have introduced regulations this year in an attempt to deter theft by including identification numbers on the devices.
While the images featured in the post do show suspected catalytic converter thieves, reverse image searches revealed that they depict two different people and come from news reports in different part of the US and Canada.
The top picture is from a February 2022 local news article about a "serial catalytic converter thief" in the US city of Cincinnati, Ohio. The article said the man was arrested at the time.
Screenshot taken on October 27, 2022, of a Fox 19 article
The two bottom pictures were featured in a May 2022 news article about a suspected catalytic converter thief in the Toronto area, some 140 miles from Goderich.
Screenshot taken on October 27, 2022, of a CityNews article
Similar posts have been shared thousands of times in the US, most of them having their comments section disabled.
Screenshot taken on October 27, 2022 of a Facebook post
Users pointed out that the same picture, which has been circulating since at least 2020, has been shared in multiple buy and sell groups each time pointing to a different US city, including Detroit, Michigan; and Sacramento, California.
Looking at the edit history of one of the posts in Canada reveals that it was later edited to an advertisement for a "rent-to-own" home in an attempt to obtain users' personal information.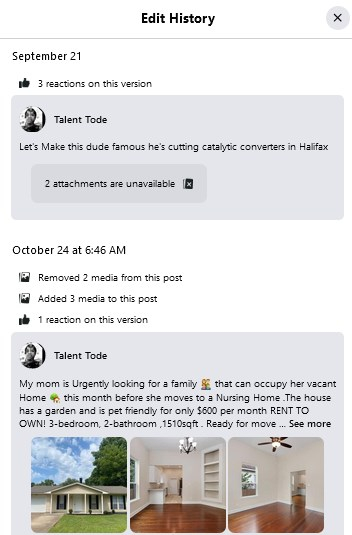 Screenshot taken on October 26, 2022, shows the edit history of a Facebook post
This follows a pattern of false claims -- many of which can be traced to accounts in Zimbabwe -- that AFP has debunked after they spread in local Facebook groups in North America. Many of the posts make claims about crimes and some contain links that seek to collect personal data from users.