Imposter account spreads 'free housing programme for millions of Filipinos' hoax
Philippine President Ferdinand Marcos Jr's government is not "giving away six million free homes" as false posts with hundreds of shares on Facebook claim. These posts are a scam, the agency that manages the government's public housing programme told AFP. The fake announcement was posted on an imposter Facebook page that is not affiliated with the government.
The false claim was shared over 400 times since it was posted online on Facebook on September 23, 2022.
It was published on a page called "PBBM Pambansang Pabahay Para Sa Pilipono [sic] Program" -- which refers to Marcos Jr by his popular initials "PBBM" but misspells the official Tagalog name for his public housing programme.
According to the Office of the President, the programme aims to build six million housing units during Marcos Jr's six-year term and was launched on September 22, 2022.
The post features an image of Marcos Jr overlaid with Tagalog-language text that translates as: "PBBM will build six million houses in the entire Philippines and we are the only authorised entity to list down beneficiaries so message us."
The post's caption goes on to claim: "Would you like to be part of this? It's free and you don't need to pay anything."
The caption also features several links where social media users can supposedly sign up -- but actually redirect to websites showing sexually explicit images.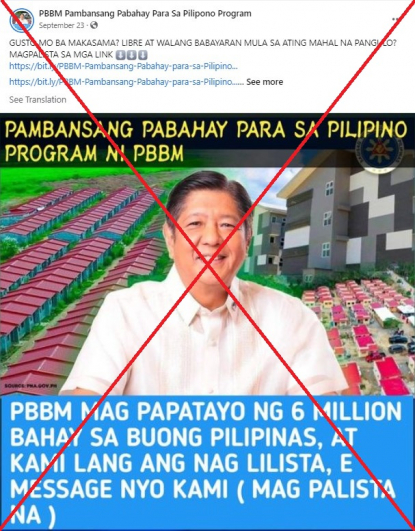 Screenshot of the false post. Taken October 26, 2022.
Similar posts from the same Facebook page here and here fuelled a swirl of comments from social media users who appeared to believe the claim.
"I hope to be one of PBBM's free housing beneficiaries. We don't have our own house so we're just renting," one wrote.
"President BBM, I hope you could give me and my children free housing. It will be a huge help," said another.
Responding to the posts, Mario Mallari, an assistant director at the Department of Human Settlements and Urban Development, told AFP: "This imposter page, as well as others posting similar claims, are fooling people.
"It's not right to say that housing under the Pambansang Pabahay para sa Pilipino Program will be free for Filipinos."
Mallari said units in the project have an estimated selling price range of P580,000 to P1,150,000 ($9,000 to $20,000) depending on the location, house or building type and other specifications.
Imposter account
Mallari added Filipinos interested in taking advantage of the housing programme coordinate directly with their respective local government units to check their eligibility.
Similar advice was posted on the verified account of the housing agency here on October 24, 2022.
The agency also urged residents to report any individuals, groups or organisations that claimed they could enrol beneficiaries via its Facebook or a telephone hotline.
A check of the Facebook page that shared the false claim found it is not affiliated with the government.
It was only created on September 23, 2022 -- a day after the housing programme launch -- and claims to be a "personal blog".
A Google reverse search found Marcos Jr's image featured in the false posts was taken from the Office of the President's official accouncement of the housing programme here on September 15, 2022.
The official announcement did not indicate Marcos Jr's public housing programme would be free for beneficiaries.
Below is a screenshot comparison of the fake announcement (left) and the official one (right):
Screenshot comparison of the fake announcement (left) and the official one (right)